In today's digital age, the power of the internet has revolutionised the way we do many things, including charity fundraising. Online platforms and social media allow people in need to reach more donors and raise more money than ever before. It's definitely easier to support the causes you care about. Let us help you make a difference!
The past and the future
In the past, traditional methods of charity fundraising involved in-person events, direct mail campaigns, and phone calls. While these methods are still effective, they often have limited reach and can be costly and time-consuming.
Fundraising platforms such as 4fund.com help individuals and organisations reach a wider pool of potential donors and raise funds more efficiently. The digital revolution has made it possible for charities to connect with people on a global scale.
Online giving is easy and convenient. It allows donors to support causes they care about with just a few clicks! Now, anyone from anywhere in the world can contribute from their own homes, anytime they want.
Additionally, fundraising platforms often have built-in features that make it easy for donors to set up recurring donations. That makes it easier for organisers to receive consistent support.

Online charity fundraising
Internet has greatly affected charity fundraising. According to a study by Nonprofits Source, online giving has been steadily increasing over the years, with a 23% grow in 2017 alone. This trend is expected to continue as more people become comfortable with making online transactions and as technology continues to advance.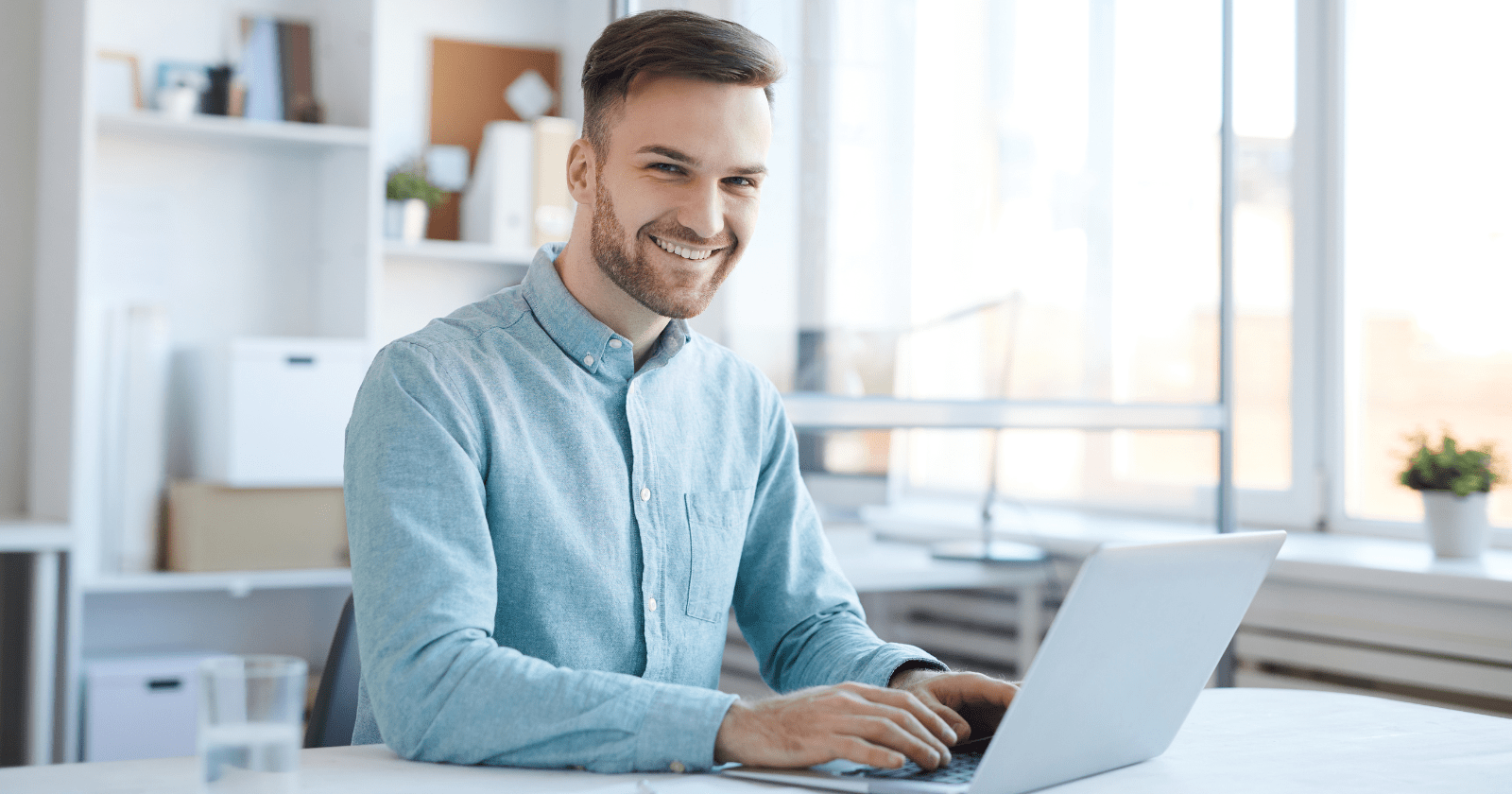 Social media
One of the main advantages of online giving is the ability to reach a wider audience. Traditional methods of fundraising have often limited those in need to their local community. However, with social media, people can reach donors from all over the world. This not only increases the potential for donations but also helps to spread awareness about the cause.
With billions of users worldwide, social media platforms offer a huge pool of supporters for charitable causes. They also allows for the viral spread of fundraising campaigns. Users can easily share and promote causes they support, further increasing the reach of these campaigns.
Cost-effective platforms
Online giving makes it easier and cheaper to raise funds. Individual organisers and charities usually have to spend money on printing and postage for sending out mail. They are also need to rent venues and plan events. With online fundraising, these costs are significantly reduced, allowing organisations to allocate more funds towards their cause. Find out more about organising a star-quality fundraiser!
Most platforms charge a small fee for their services, which is usually a percentage of the total donations collected. 4fund.com is completely free and charges absolutely no fees! What sets it apart from other platforms is that it is a licensed Payment Service Provider in the European Union. It is certainly one of the best places to start fundraising for charity!
Advanced features
The digital nature of online giving allows for real-time analysis of fundraising progress. Advanced tools like Google Analytics and Facebook Pixel can help you improve your fundraising campaign. On 4fund.com you can also create a tracking link to keep control of your statistics!
4fund.com's functions make it easy for organisers to encourage others to help! Unique features allow you to personalise your campaign and stand out from the crowd. Learn more about non-profit strategies in this article.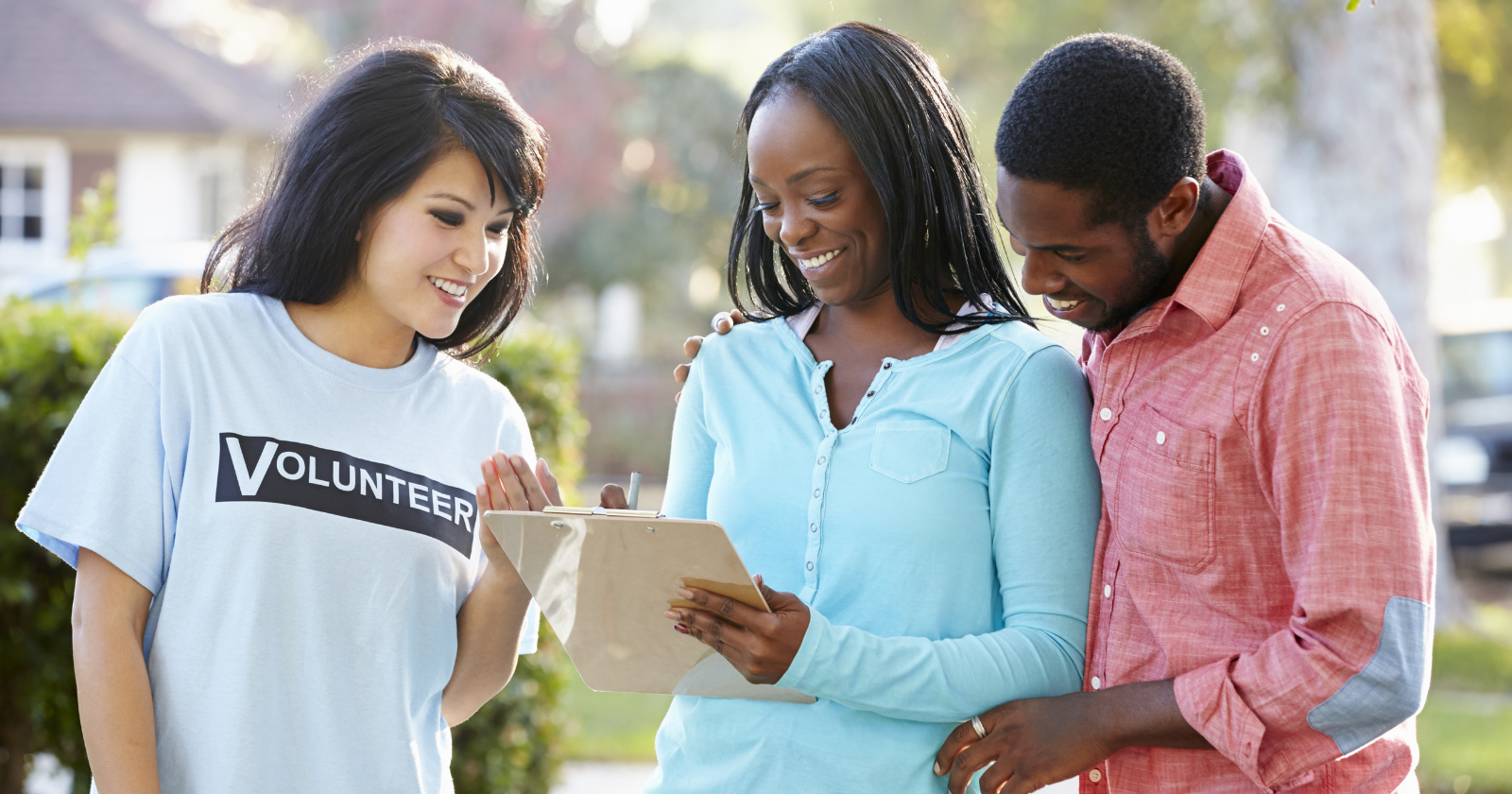 How to support charity on 4fund.com?
Online fundraising platforms such as 4fund.com provide various ways to support charity caues. If you are a member of an organisation, you can easily create a corporate account. It's a great way to raise money from donors for free and without commission.
If you are an individual user, you can support a charity in just a few clicks. You also have the opportunity to raise money for your favourite charity or a cause close to your heart.
Explore the catalogue
Here are some steps you can take to support charity on 4fund.com:
1. Create an account (optional): Consider creating an account on the 4fund.com platform. This will give you access to all the features and functionalities. You can donate without registering, but you won't be able to see the history of your activities.
2. Explore charity campaigns: Browse through the list of charity campaigns available on the 4fund.com's catalogue. They are divided into different categories (e.g. charity, needs, animals) to make your search easier.
3. Donate to fundraiser: Once you find a campaign that resonates with you, you can make a donation directly on the platform. Choose the amount you wish to donate and follow the instructions to complete the donation process.
4. Share it: Help spread the word about the campaigns you support. Use the sharing options provided on the platform to share the campaign with your friends, family, and social media followers. This can help raise awareness and encourage others to donate as well.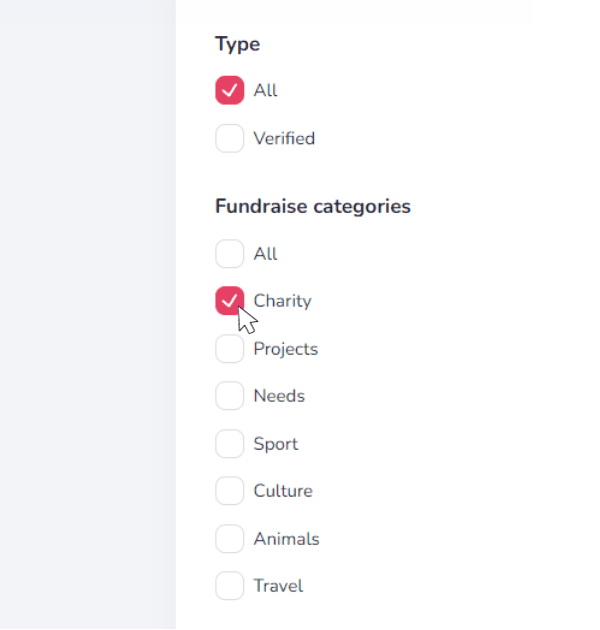 Fundraising on behalf of others
At 4fund.com, you can set up a fundraiser not only for your cause, but also on behalf of someone else. If the organiser of the fundraiser has enabled this option, you can create a Moneybox with their campaign. This will allow you to raise money for the cause you care about.
You can also raise money for a charity you care about. Remember to ask their permission first - you will need to have the fundraiser's description verified!
Know a cause you want to support, but don't know any organisations? Check these:
humanitarian aid (Médecins Sans Frontières, Caritas Europa, Dóchas)
animal welfare (European Wilderness Society, Fondation Brigitte Bardot, ISPCA)
children's aid (UNICEF, Save the Children, Ronald McDonald House Charities)
women's rights (Women's Aid, Womankind Worldwide, European Women's Lobby)
enviromental protection (WWF Europe, ActionAid, ClieantEarth)
education (CARE, Plan International, Educate Together)
Remember, every contribution counts, no matter how big or small. Supporting charities on online fundraising platforms like 4fund.com can make a significant impact and help create positive change!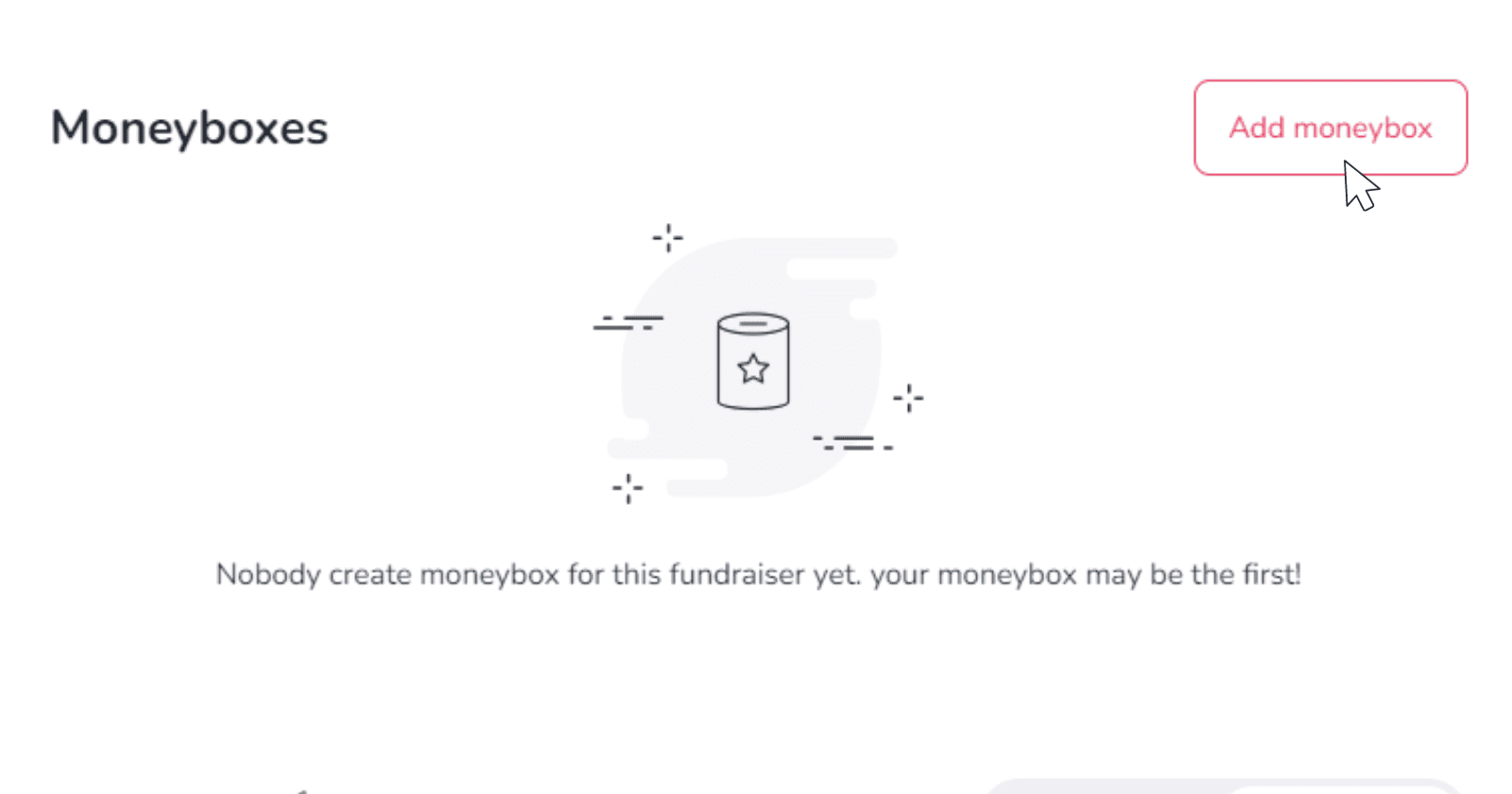 Charity fundraising ideas
Setting up a fundraiser on an online platform to raise money for charity sounds like a great idea. But you know what's even better? Combining 4fund.com' advanced features with so-called old-fashioned methods! We gladly offer you some charity fundraising ideas to help you find the answer to the fundamental question... How to start a fundraiser for charity?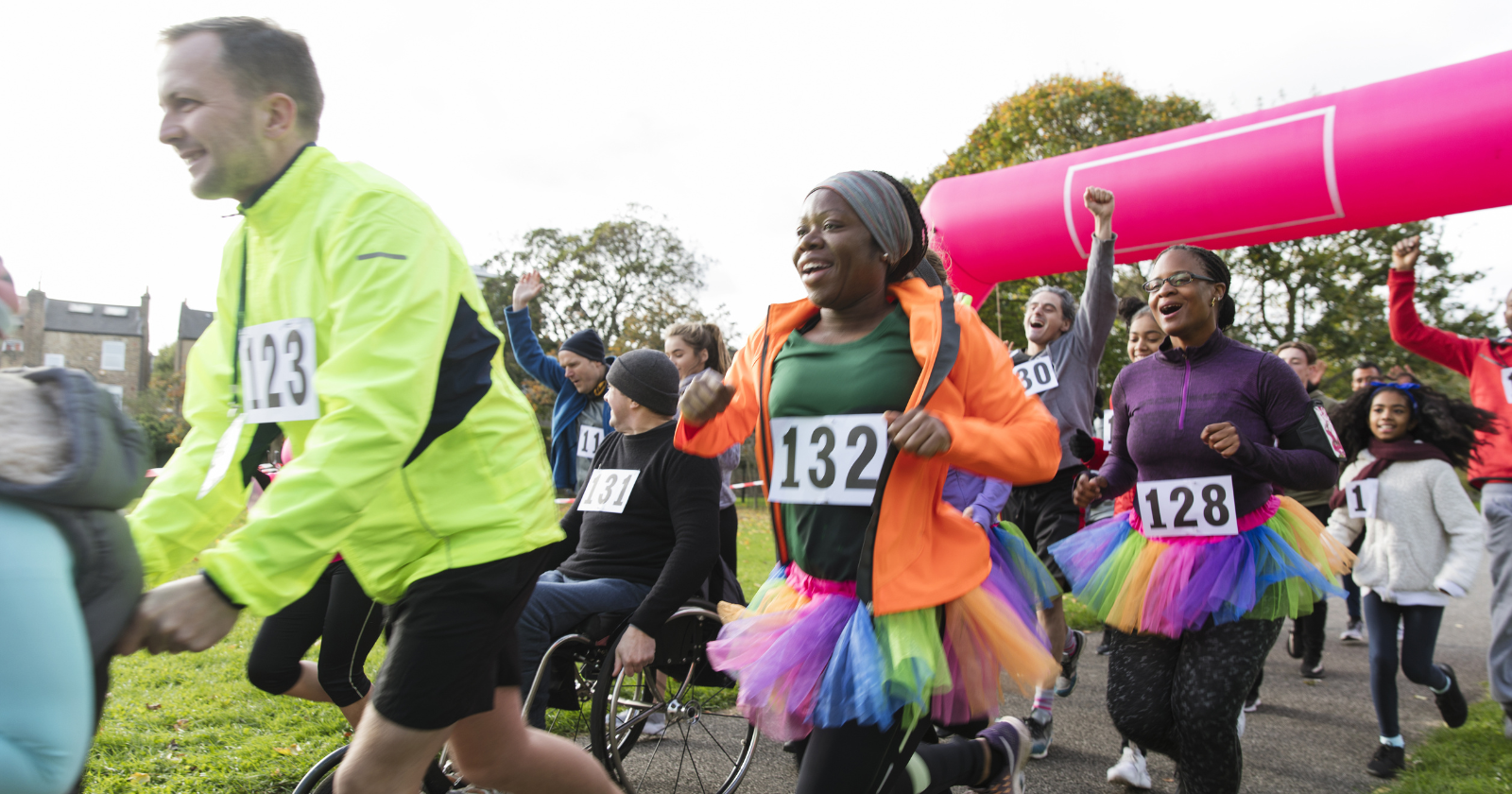 Organise charity event
Organising a charity event is a fantastic way to raise funds for a cause you care about. And with the help of 4fund.com, you can take it a step further by generating eye-catching posters to promote your online campaign. Put up them at an event to promote your fundraiser. Whether it's a concert, a fashion show or a school fundraising event, the posters will grab people's attention!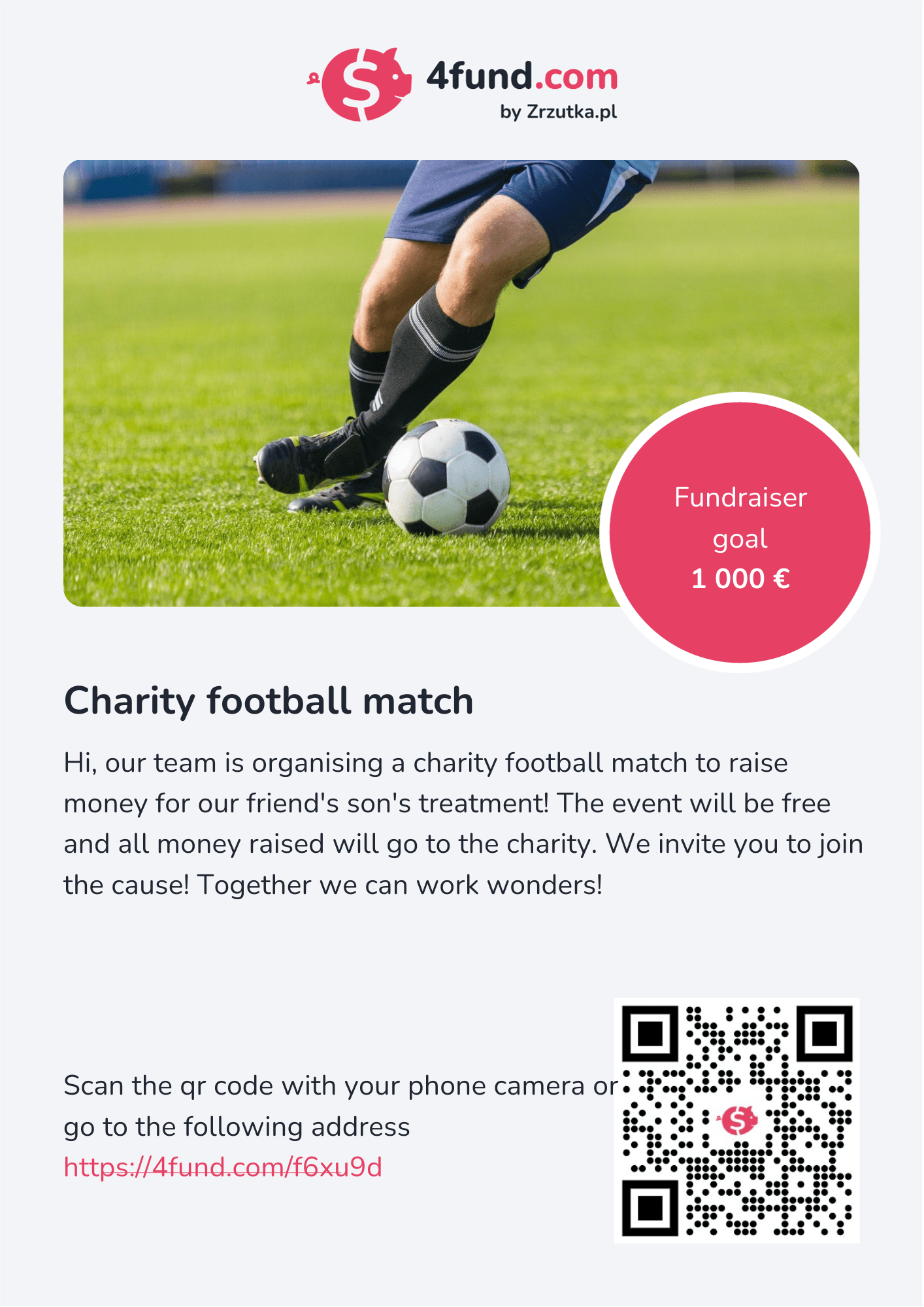 Run for money
Organizing a charity marathon or walkathon is an excellent way to engage people and raise funds for a cause. You can use 4fund.com to generate QR codes that link directly to your online fundraiser. By placing them on posters, flyers, or even on social media platforms, you can encourage people to participate in your event. The QR codes make it easy for individuals to access your online fundraiser and contribute to your charity fundraising efforts.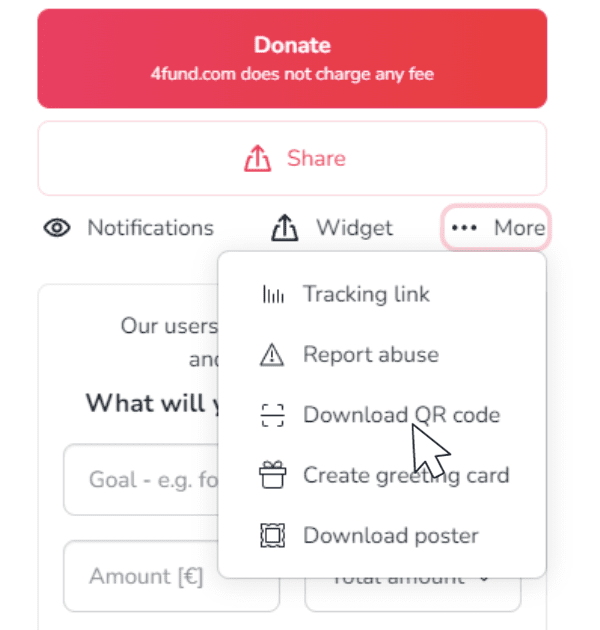 Host a sports tournament
Sports fundraising events not only provide a fun and competitive atmosphere but also promote community involvement and support. By hosting a tournament, you can engage participants and spectators alike, encouraging them to contribute to your charity fundraising efforts. Additionally, sports fundraising can help promote a healthy and active lifestyle while making a positive impact on the community. Don't forget to include the widget on your website!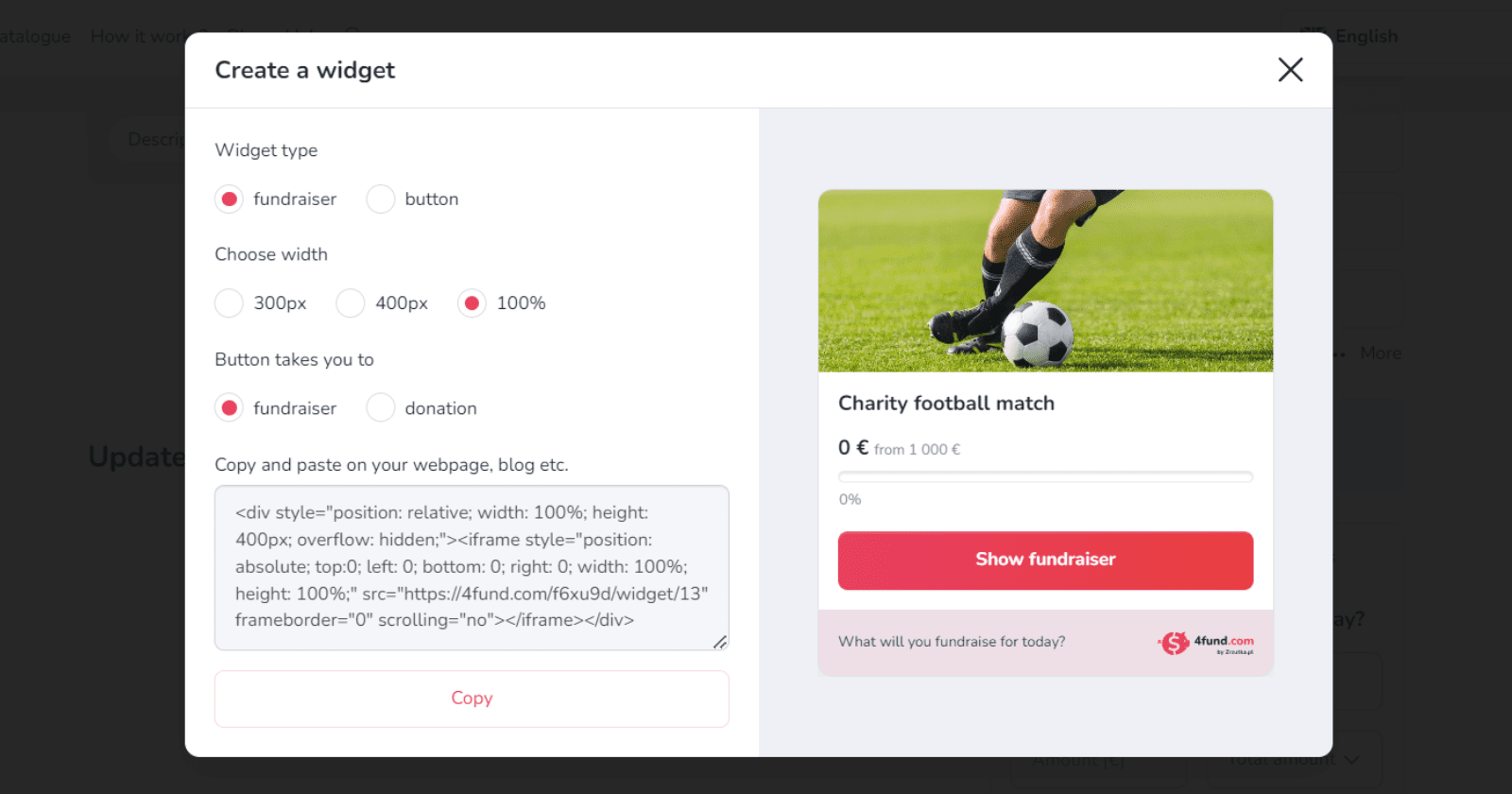 Start an online auction
By creating an online auction, you can reach a wider audience and engage people from different locations. 4fund.com provides a platform where you can showcase the items or experiences that you want to auction off to raise money for your cause. Make sure to promote your auction through social media and other online channels to attract bidders and increase participation.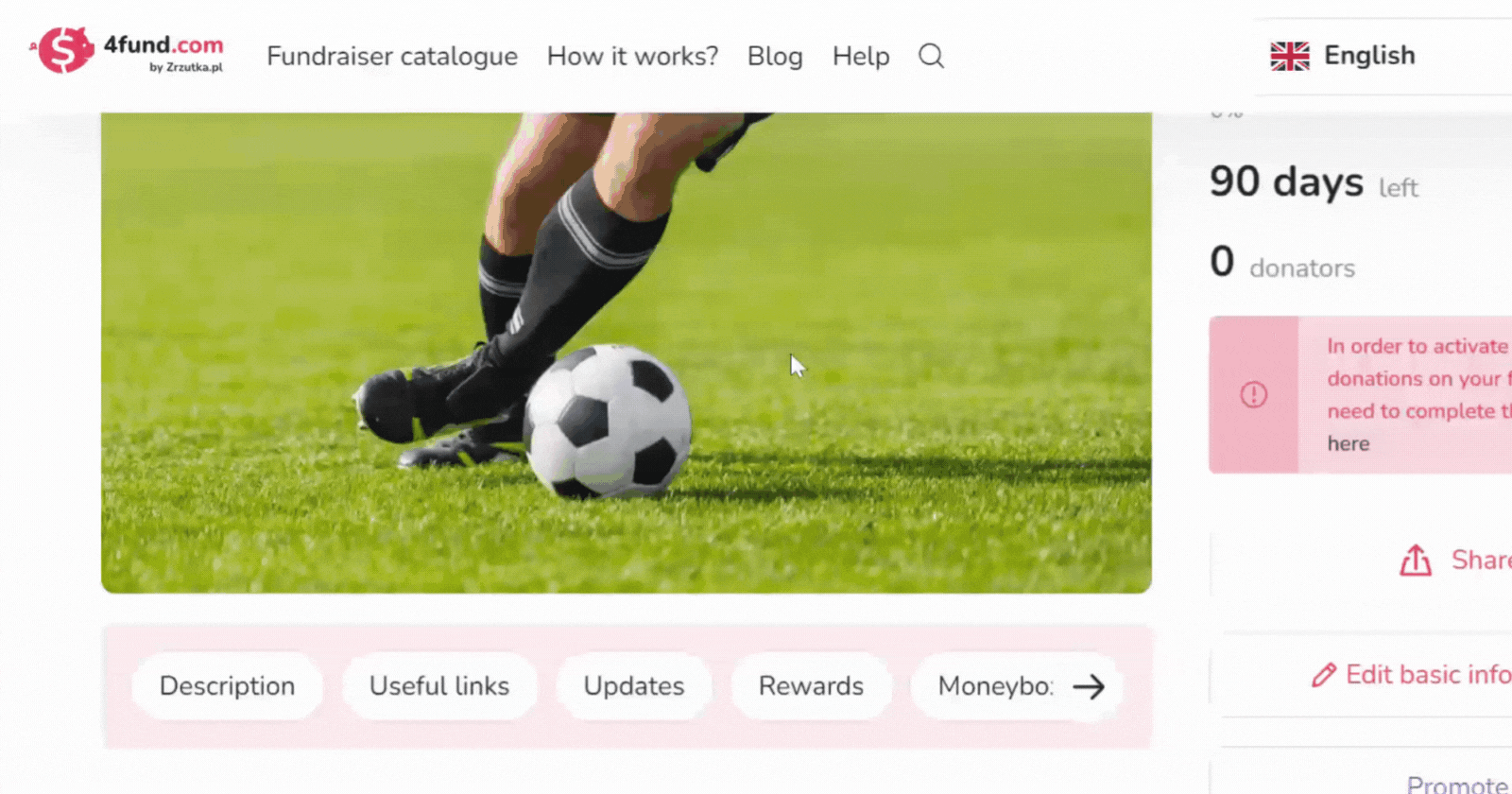 Reward with merchandise
With the 4fund.com' rewards features, you can offer unique items or experiences as incentives for people to donate. This can include branded t-shirts, mugs, or even exclusive access to events or workshops. By providing tangible rewards, you can encourage more people to contribute to your cause and make a difference.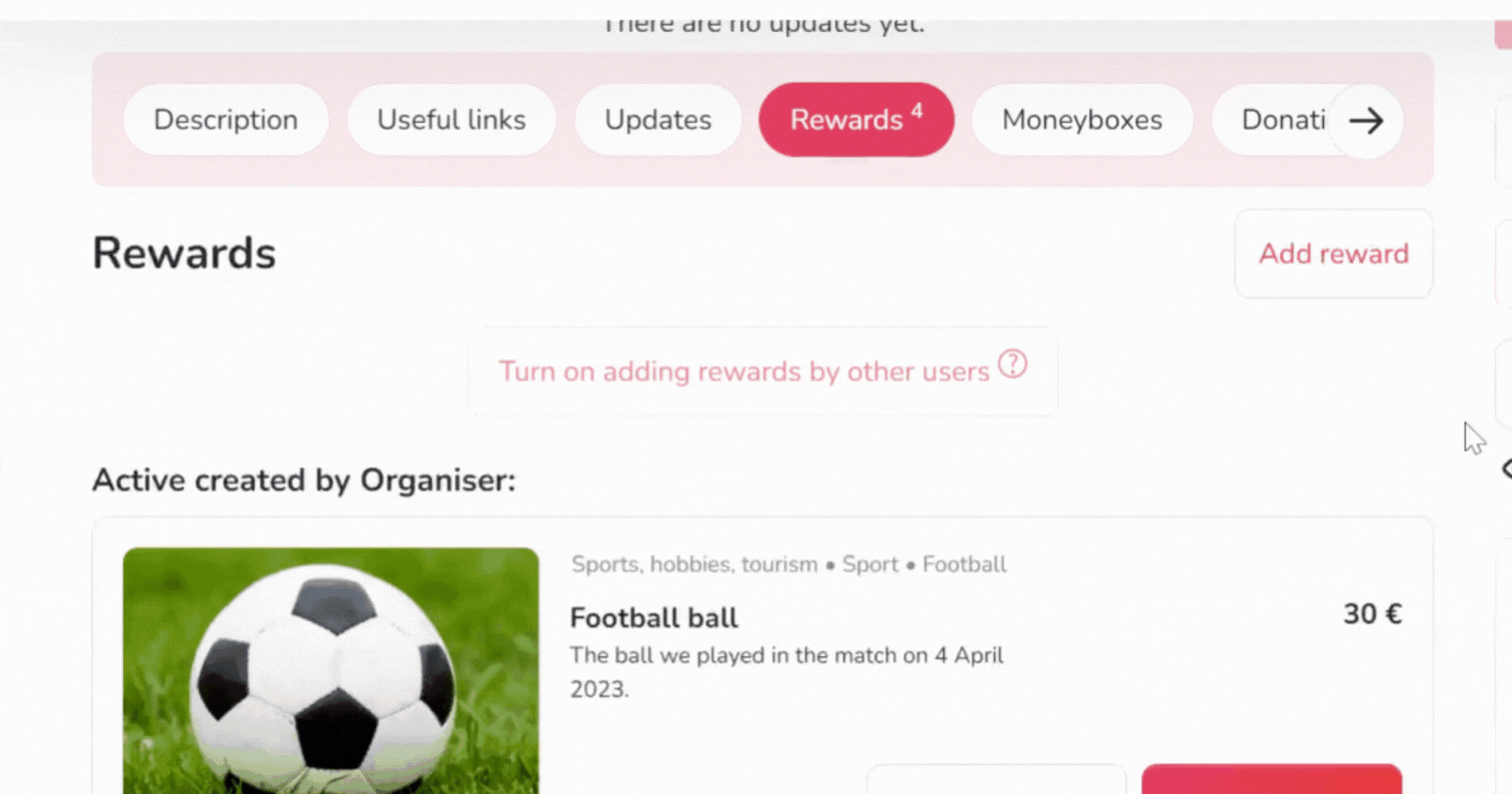 Conclusion
The power of online giving has revolutionised charity fundraising, providing a more efficient and effective way for individuals and organisations to raise funds for their causes. With the convenience of online platforms and the reach of social media, the potential for online fundraising is endless. By implementing creative fundraising ideas, charities can continue to make a difference and positively impact the world. So why not harness the power of online giving and start your own fundraising campaign today? The digital age has opened up new opportunities for charity fundraising, and it's up to us to seize them.

Follow our blog and social media profiles for the latest tips and guides. Check out FAQ and other articles to learn more about running a successful fundraiser on 4fund.com!
---
Thinking about creating your fundraiser? Get to know us better and find out why it's worth a try!
First of all - how does it work?
It's simple - go to 4fund.com, enter how much money you want to raise, what are you going to spend them on and you're done! After a short verification, you will be able to use all the features of the portal without limitations. You can withdraw funds from your fundraiser whenever you want as often as you need, and thanks to the express withdrawal option, you will receive the funds in your account within minutes of ordering it! What's important - 4fund.com is maintained mainly by donations - you can use the portal 100% free of charge. We do not charge any mandatory fees from Organisers or Donators.
Secondly - does it work?
After 10 years of development, we are coming to you as the leaders of the Polish crowdfunding market. Poles have raised funds over one billion PLN on zrzutka.pl (the Polish name for 4fund.com)! Our biggest actions include the #TogetherForUkraine fundraiser, which raised almost EUR 700,000, or the fundraiser for the Crisis Helpline, which raised more than EUR 380,000 in just two days.
However, 4fund.com is above all tens of thousands of private fundraisers - birthdays, trips, settle joint initiatives and others.
Collect one-off or in a subscription model and realise your goals with 4fund.com!
---