By creating a personal tracking link to your fundraiser, you can keep track of the effects produced by your contribution to promote it. It's not only very easy, but it's also rewarding when you can show off how much has been raised thanks to you.
How to create your tracking link?
Click the 'more' button next to the main fundraiser image and then select the 'tracking link' option. It will open a window where you just need to enter the end of the address (any text of your choice, which can be your name, for example) or generate it randomly by clicking the 'Random' button.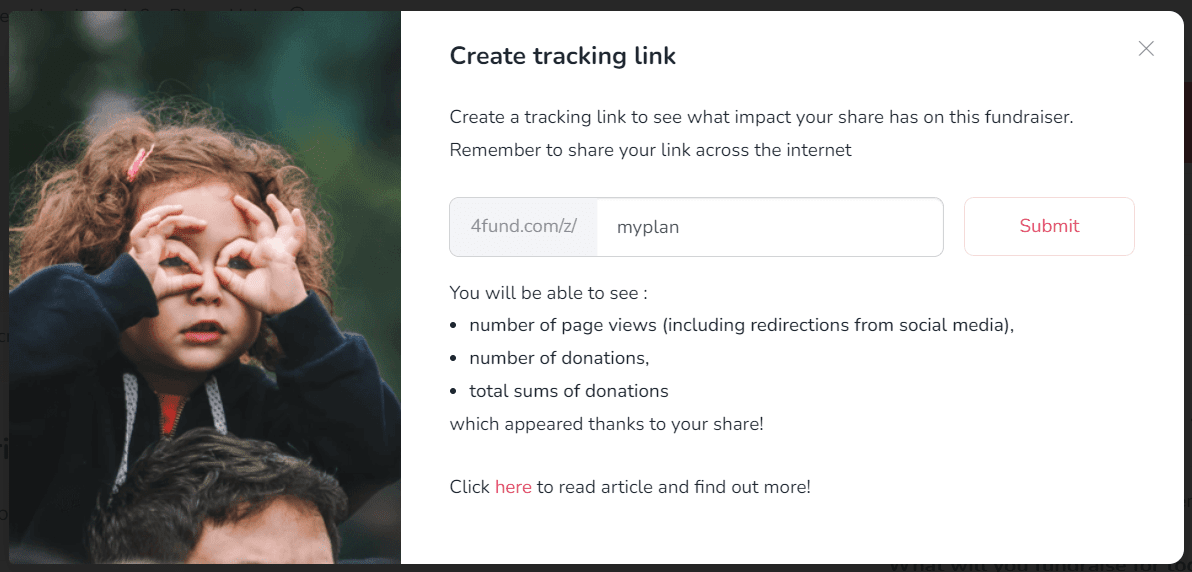 After clicking 'Submit', your link will be ready to be promoted and measure the interactions it generates.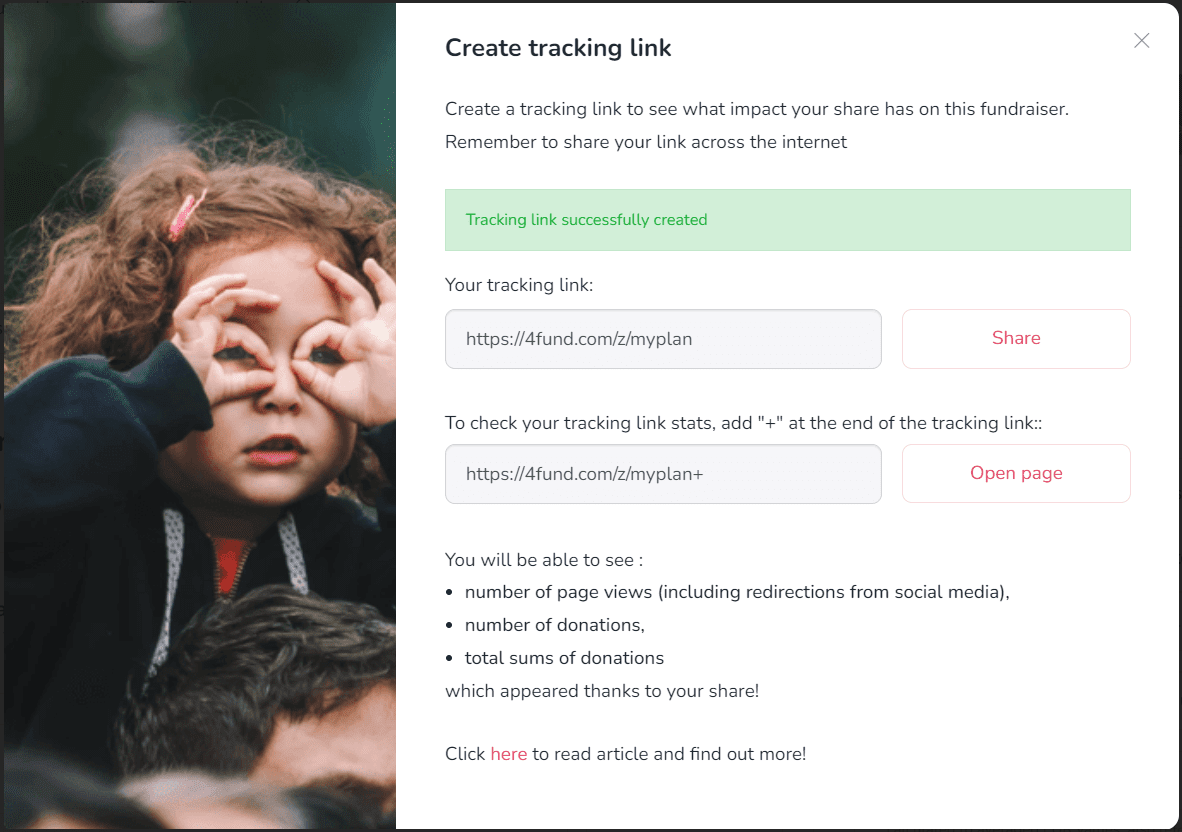 To check the statistics of your address, add a "+" sign at the end (e.g. 4fund.com/z/myplan+).
How does it work?
Method of counting clicks
It is necessary to share the fundraiser precisely by the tracking link you have created to collect statistics of visits and donations obtained through the tracking link.
The statistics refer to the visits and donations of people who visited the fundraiser only by clicking on the created tracking link.
Please note that when you visit a fundraiser page via a tracking link, the page address automatically changes to the base address of the fundraiser, i.e. 4fund.com/fundraiser_id. Sharing the fundraiser from within the homepage will not contribute to the collection of statistics because you will share the base link of the fundraiser.
A person's contributions to the fundraiser via the tracking address are monitored for 30 days after clicking on the tracking link (on the same browser and device the User is operating)
Once a User enters the fundraiser via the tracking link created, we count this entry as a single visit for 10 minutes, which prevents artificial and incorrect boosting of statistics
Statistics are available at the tracking address ending with "+", e.g. 4fund.com/z/myplan+
How does this look in practice?
By creating a tracking address, you can keep an eye on the contributions flowing in from a specific communication channel. The statistics collected by the tracking link look like this: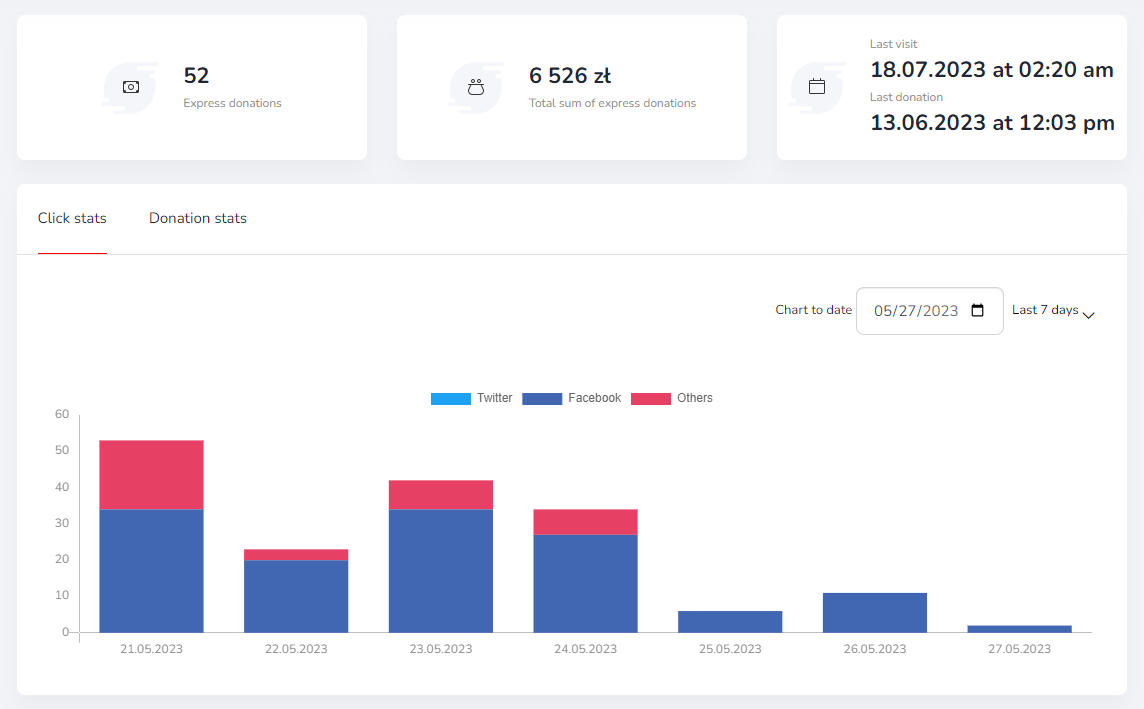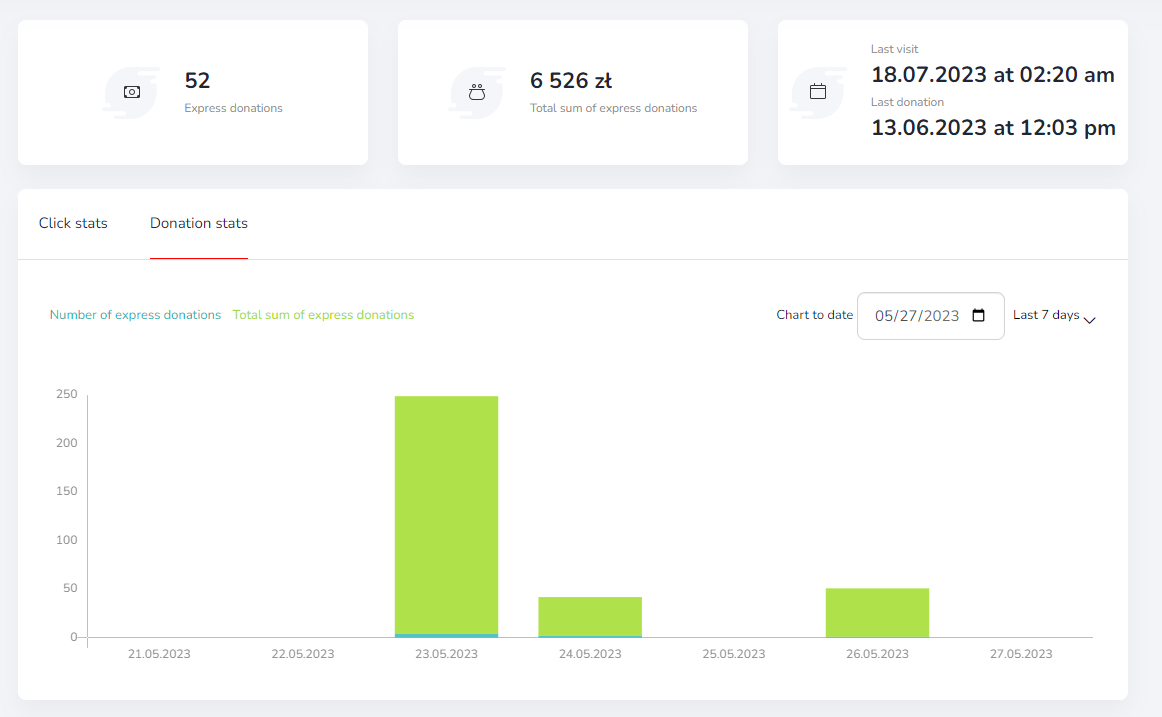 Encourage your friends to spread the word about your fundraiser and create a tracking link for them to keep up to date with the effects of their actions. Apart from your friends, you can also invite, for example, celebrities to promote your fundraiser, who will share the tracking address you generated for them to interact with your fundraiser.
You can create a separate tracking address for each person, like 4fund.com/z/michal, 4fund.com/z/kasia, etc. The statistics of entries and donations for these addresses will be available respectively on the links with a '+' added at the end, i.e. 4fund.com/z/michal+, 4fund.com/z/kasia+, etc. This way, those involved in the promotion of your fundraiser will be able to see exactly how they are contributing to the increase in the number of hits and funds raised on your fundraiser account :)
---
Thinking about creating your fundraiser? Get to know us better and find out why it's worth a try!
First of all - how does it work?
It's simple - go to 4fund.com, enter how much money you want to raise, what are you going to spend them on and you're done! After a short verification, you will be able to use all the features of the portal without limitations. You can withdraw funds from your fundraiser whenever you want as often as you need, and thanks to the express withdrawal option, you will receive the funds in your account within minutes of ordering it! What's important - 4fund.com is maintained mainly by donations - you can use the portal 100% free of charge. We do not charge any mandatory fees from fundraisers or supporters.
Secondly - does it work?
After 10 years of development, we are coming to you as the leaders of the Polish crowdfunding market. Poles have fundraised over one billion PLN on zrzutka.pl (the Polish name for 4fund.com)! Our biggest actions include the #TogetherForUkraine fundraiser, which raised almost €700,000, or the fundraiser for the Crisis Helpline, which raised more than €380,000 in just two days.
However, 4fund.com is above all tens of thousands of private fundraisers - birthdays, trips, settle joint initiatives and others.
Collect one-off or in a subscription model and realise your goals with 4fund.com!

---