Introducing another interesting solution we have prepared for you on 4fund.com - you can add posts for people who buy rewards offered via your fundraiser!
Thanks to the posts, you can provide people who donated to your fundraiser (by choosing a specific or any reward/offer) with specific content - such as:
access codes or links to your photos or videos;
access to your training courses;
passwords to the premium material you offer;
and many others!
Posts are assigned to rewards - if you want to add a post, you need to have at least one reward on your fundraiser. Here's how to add a reward.

After adding a reward, the ability to add posts will appear in the view of your fundraiser (you must log in as the Organiser to see it):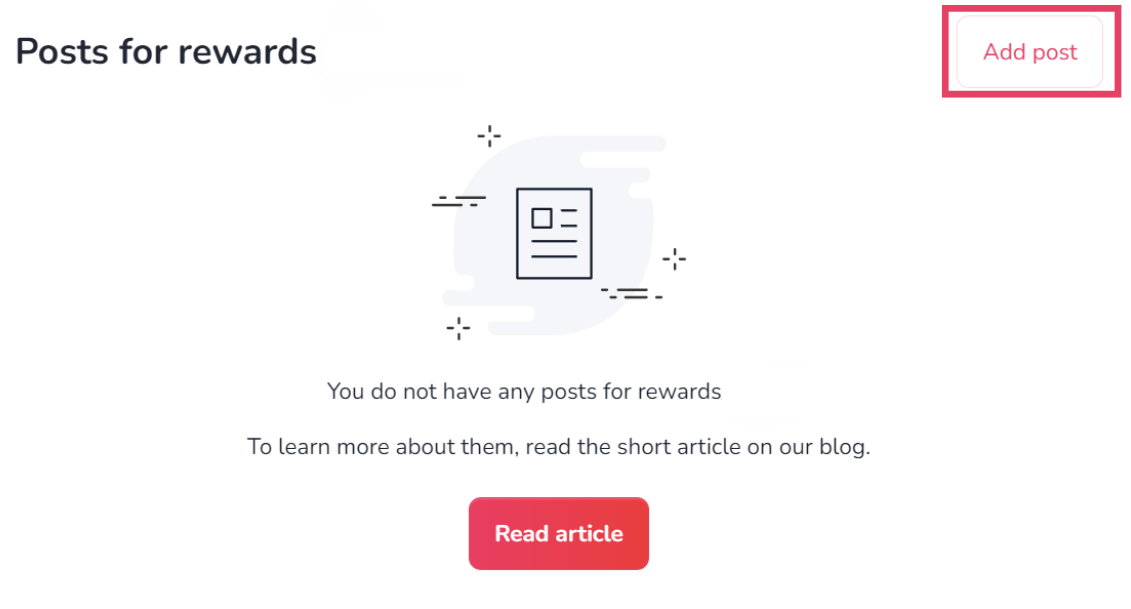 After clicking "add post" you will hit the view that allows you to add a post. When adding it, you can choose the following options - content can be available:
for people who have selected any reward;
only for people who have bought a reward of a certain value;
only to people who have bought a reward of a certain or a higher value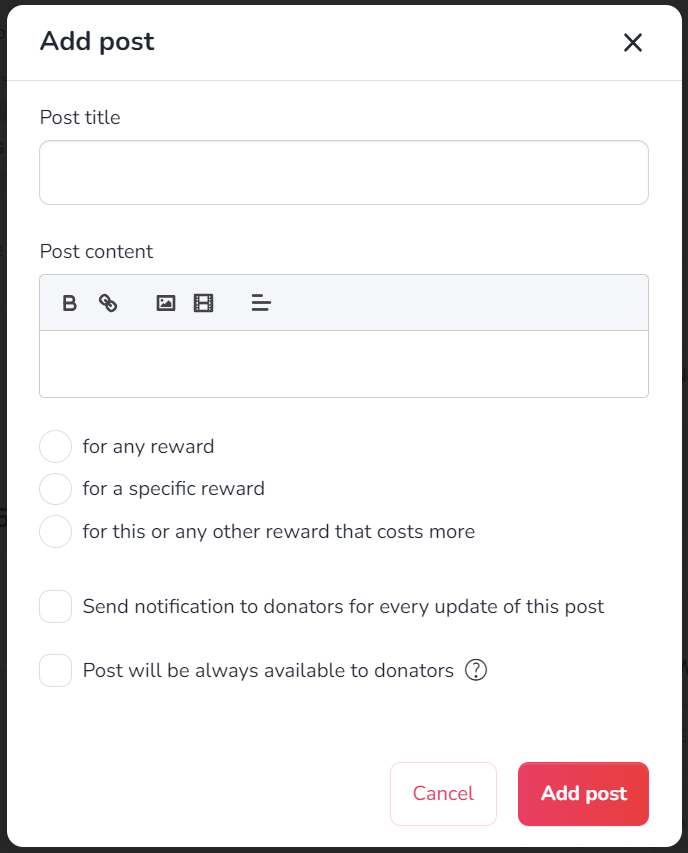 Donators will see the content of the posts you have prepared for them after logging into 4fund.com. To see the post, the Donator must buy it as a logged-in User or enter the email with which they log in to 4fund.com in the payment form. Posts are available for 31 days from the donation - they can also be available indefinitely if you select this option when adding the post:

In case the content is unavailable for them, they will see the following message:

Handy tip - if you want Donators to have ongoing access to posts, organise a recurring fundraiser! By making recurring monthly contributions, supporters will not lose access to posts after a 31-day deadline. This is a great way to boost your campaign for a creative project!
---
Thinking about creating your fundraiser? Get to know us better and find out why it's worth a try!
First of all - how does it work?
It's simple - go to 4fund.com, enter how much money you want to raise, what are you going to spend them on and you're done! After a short verification, you will be able to use all the features of the portal without limitations. You can withdraw funds from your fundraiser whenever you want as often as you need, and thanks to the express withdrawal option, you will receive the funds in your account within minutes of ordering it! What's important - 4fund.com is maintained mainly by donations - you can use the portal 100% free of charge. We do not charge any mandatory fees from fundraisers or supporters.
Secondly - does it work?
After 10 years of development, we are coming to you as the leaders of the Polish crowdfunding market. Poles have fundraised over one billion PLN on zrzutka.pl (the Polish name for 4fund.com)! Our biggest actions include the #TogetherForUkraine fundraiser, which raised almost €700,000, or the fundraiser for the Crisis Helpline, which raised more than €380,000 in just two days.
However, 4fund.com is above all tens of thousands of private fundraisers - birthdays, trips, settle joint initiatives and others.
Collect one-off or in a subscription model and realise your goals with 4fund.com!
---