Check out how easily you can organise a fundraiser with rewards! From today's article, you will learn where to find the reward feature and how to use it.
Being rewarded for financially supporting a fundraising campaign is a very pleasant feeling. Whether you're a creator who wants to donate a piece of art to your fans, a sports club with merchandise, a school or simply an organiser who wants to give something back to your donors, you'll find this guide useful!
To add a reward to your fundraiser, log in to 4fund.com. Then open your fundraiser and go to rewards, as in the view below:
When you click the highlighted button, the reward editing window will expand. To add a reward, enter its title, description and select the shipping option. Adding images is not mandatory, but certainly helps draw attention to your offer.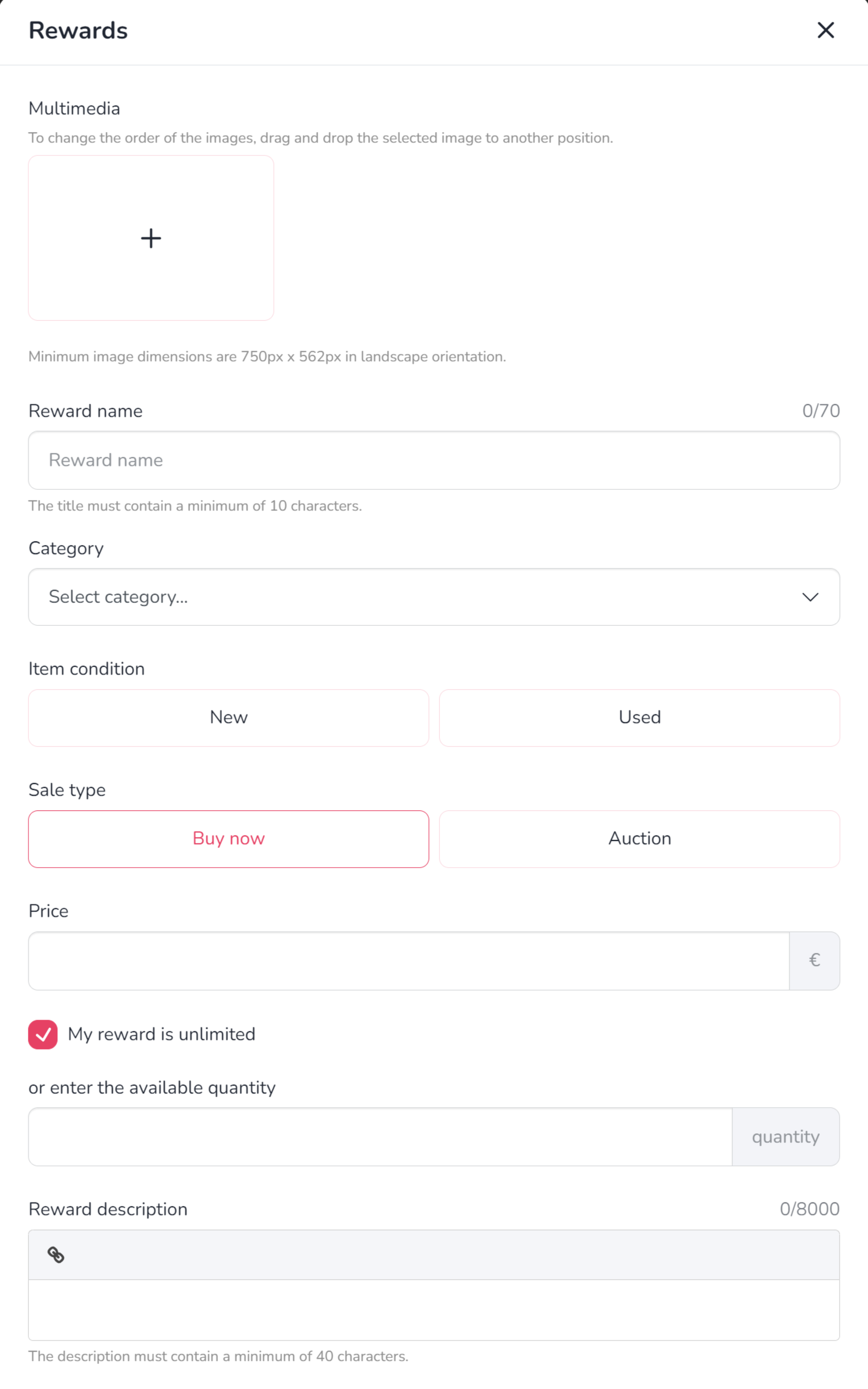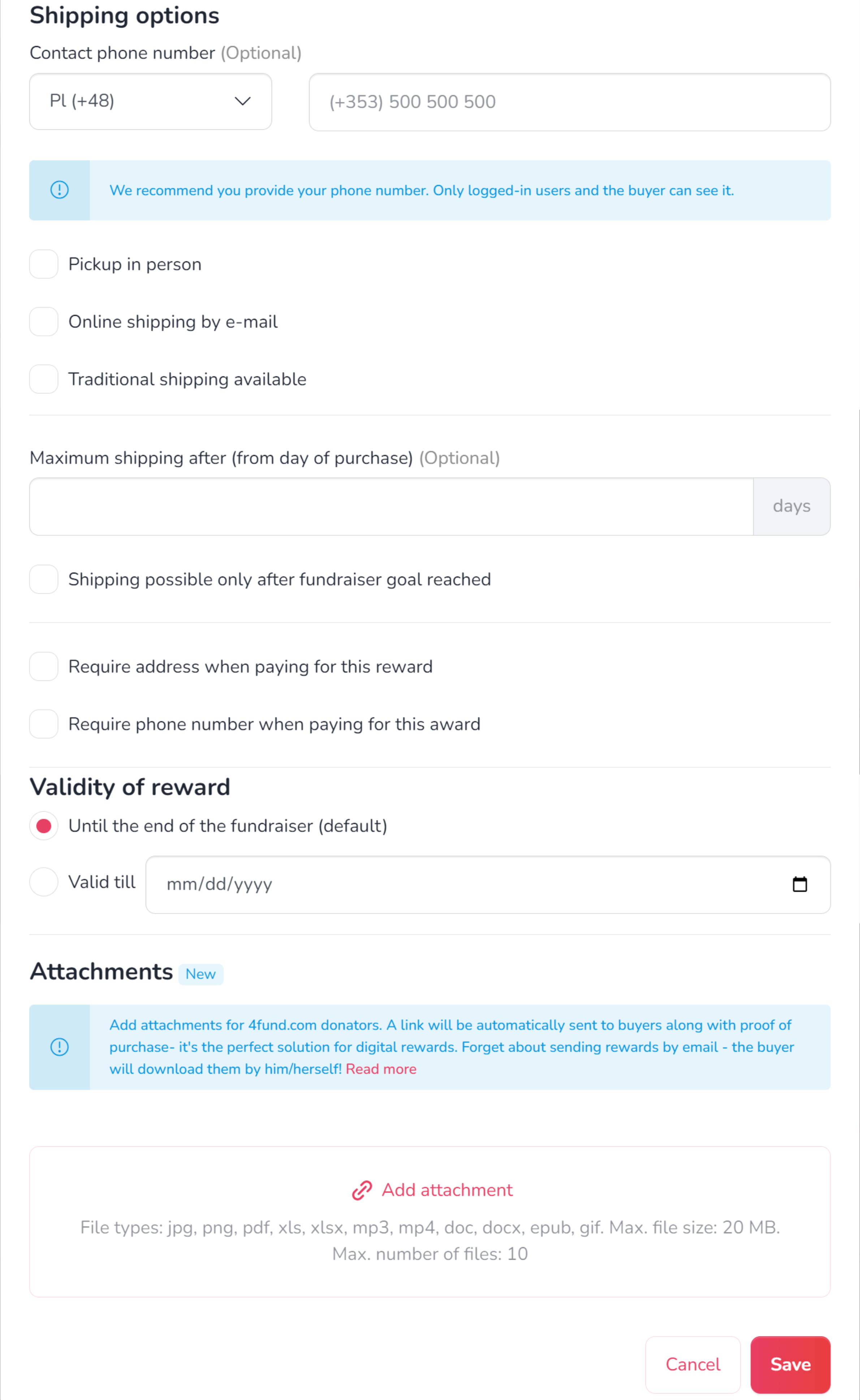 You can also add downloadable attachments as part of the reward - this is ideal for electronic rewards i.e. photos, vouchers, tickets, etc. We will automatically send the link to download attachments to buyers in the purchase confirmation email. Note - deleting the attachment is possible only before saving the form or in case the prize has not been purchased yet.
You can edit a once-added reward later - to do so, select the relevant option from the drop-down menu labeled "More".

The rewards you use in your fundraiser can be of various types. From in-kind awards such as handicrafts, things that you, your friends or sponsors will donate to support the fundraiser, to virtual rewards, subscriptions or unique content you can share with reward posts. This will certainly make your fundraising idea more appealing and people more likely to support your efforts.
The Donator can pay the assigned amount or make a higher donation for a reward! This adds to the enjoyment of the rewards for both the organisers and the Donators :)
---
Thinking about creating your fundraiser? Get to know us better and find out why it's worth a try!
First of all - how does it work?
It's simple - go to 4fund.com, enter how much money you want to raise, what are you going to spend them on and you're done! After a short verification, you will be able to use all the features of the portal without limitations. You can withdraw funds from your fundraiser whenever you want as often as you need, and thanks to the express withdrawal option, you will receive the funds in your account within minutes of ordering it! What's important - 4fund.com is maintained mainly by donations - you can use the portal 100% free of charge. We do not charge any mandatory fees from fundraisers or supporters.
Secondly - does it work?
After 10 years of development, we are coming to you as the leaders of the Polish crowdfunding market. Poles have fundraised over one billion PLN on zrzutka.pl (the Polish name for 4fund.com)! Our biggest actions include the #TogetherForUkraine fundraiser, which raised almost €700,000, or the fundraiser for the Crisis Helpline, which raised more than €380,000 in just two days.
However, 4fund.com is above all tens of thousands of private fundraisers - birthdays, trips, settle joint initiatives and others.
Collect one-off or in a subscription model and realise your goals with 4fund.com!
---