Welcome to 4fund.com. We are a team of passionate professionals dedicated to our customers as they raise money through collective collaboration. With more than 10 years experience, we have built a reputation for excellence and are committed to exceeding your expectations.
Our journey started in Poland as zrzutka.pl - the leading crowdfunding site in our country. With 10 years experience, we have established a strong reputation and grown from a small business into a powerful platform uniting hundreds of thousands of Users, who created almost 1 000 000 fundraisers! No matter if you want to make your dream come true, sell your product, find patrons for your online work, or launch a charity, you are always welcome on 4fund.com!
- We follow the crowdfunding business all over the world and have always been astonished by one simple fact - the "players" in this sector, including the most recognizable ones, charge high commissions (from 5% to 15%), and in addition, the Organiser of the fundraiser can wait up to 14 days to withdraw the funds raised. Astonishing as it is, it has a simple explanation - all these portals, as far as we know, are not payment processors and use the support of payment service providers or financial institutions to manage all financial issues and KYC/AML. This makes the process of delivering payments to collection Organisers on these platforms long, costly and inefficient in terms of time. This is why we are going out to all collectors in the European Union with our model, which has worked so well in Poland. - says Krzysztof Ilnicki, CTO and vice president of 4fund.com.
With great money comes great responsibility. We are aware that there are scammers among the Organisers of online collections. Fortunately, we have ensured a high standard of security by obtaining a license from a Financial Supervision Commission, which allows us to act as the National Payment Institution. This kind of license allows us to provide payment services throughout the European Union. As a Payment Services Provider, we must ensure the safety of the money entrusted to us. Just like on zrzutka.pl, on 4fund.com you are always sure who you are donating to. If a collection seems suspicious to you, you can report it to our security department. We take each report seriously, and in case suspicions prove correct, the funds collected by the scammer are returned to the Donators.
Over time, our brand recognition began to attract well-known names. Everyone knew what "zrzutka" ("fundraiser" in polish) meant and associated online collections with our site. Fundraises carried out on zrzutka.pl grew larger and larger, until they reached record results in 2022. That year, journalist Slawomir Sierakowski held the largest fundraiser in our history. He decided to collect money for a Bayraktar (combat drone) for Ukraine. The fundraiser was widely publicized in major Polish media. Many celebrities put up their private belongings or the possibility of a meeting for auction to help collect that money. As a result, Sierakowski raised 24 836 380 zł (~ 5 304 678 €) for the Ukrainian army.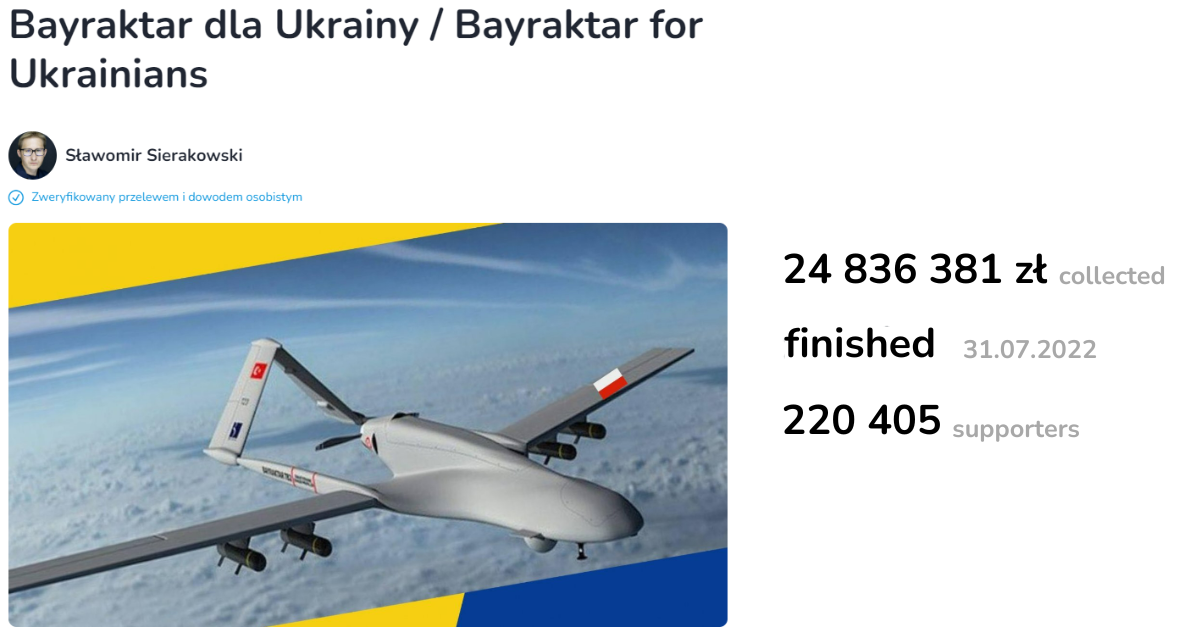 If you want to get to know us better, subscribe to our newsletter! Every 2 weeks we will tell you about our latest developments and most interesting events.
Click here and start your fundraiser right now - it's super easy and always free!
If you want to prepare for your first fundraiser on 4fund.com, check out these articles:
If you have additional questions, don't hesitate to visit our FAQ section. Use the convenient browser and clear your doubts in a few moments!
---
Thinking about creating your fundraiser? Get to know us better and find out why it's worth a try!
First of all - how does it work?
It's simple - go to 4fund.com, enter how much money you want to raise, what are you going to spend them on and you're done! After a short verification, you will be able to use all the features of the portal without limitations. You can withdraw funds from your fundraiser whenever you want as often as you need, and thanks to the express withdrawal option, you will receive the funds in your account within minutes of ordering it! What's important - 4fund.com is maintained mainly by donations - you can use the portal 100% free of charge. We do not charge any mandatory fees from fundraisers or supporters.
Secondly - does it work?
After 10 years of development, we are coming to you as the leaders of the Polish crowdfunding market. Poles have fundraised over one billion PLN on zrzutka.pl (the Polish name for 4fund.com)! Our biggest actions include the #TogetherForUkraine fundraiser, which raised almost €700,000, or the fundraiser for the Crisis Helpline, which raised more than €380,000 in just two days.
However, 4fund.com is above all tens of thousands of private fundraisers - birthdays, trips, settle joint initiatives and others.
Collect one-off or in a subscription model and realise your goals with 4fund.com!
---