Our blog offers numerous articles that guides you on how to initiate and manage a fundraiser, as well as information about the latest features available. Here we have prepared something special for you - a comprehensive fundraiser to-do list, complete with a guide and checklist for Organisers. So where do you start?
Define the goal of the fundraiser
In the beginning, you should plan the goal, length, and desired amount of your fundraiser. Think carefully about what you need and what you want to use the funds raised for. The goal should relate to the story you will tell your donators.

It is also important to set an appropriate target amount. It should allow you to reach your target and be legitimated in the fundraising description. It's important to consider various scenarios before starting a fundraising campaign. Determine how the funds will be used if you surpass the target or if you don't reach 100%. Although targets and amounts vary, the optimum duration for a one-off campaign should last between 2 and 4 weeks.
Get consent if you are not the beneficiary
According to our Terms and Conditions: 'f a Fundraiser is organised for the benefit of a Beneficiary, it is the Organiser's responsibility to obtain - before creating the Fundraiser - the consent of such person to run the Fundraiser in question on his/her behalf and permission for the Operator to process his/her personal data, as well as a scan of his/her identity card(...)' So if you are arranging a fundraiser for the benefit of another person or organisation, obtain the consent of the Beneficiary before you officially start raising funds. You can use our model documents.
It may seem like a small matter, but there have been instances where the beneficiary of raised funds declined to sign the necessary consent during the verification process, had concerns about the fundraiser description, or refused to accept the raised money. To avoid problematic situations later on, it is, therefore, advisable to take care of the consent at the very beginning.
Once you have everything planned, it's time to put your thoughts into words! So in the next step, create your fundraiser, complete its description and upload images. The description is a key element of the collection. It's worth spending more time on it as an interesting story encourages Users to donate and share. Make sure the text is concise, describing the goal and your or your loved ones' situation. Remember to include images too. They will attract more attention than a wall of text. If possible, try not to use images from the internet, but take the photos yourself. You can find more advice on preparing a description here.
Stand out from the crowd
If you want your fundraiser to stand out and make donors even more willing to contribute, add rewards and auctions. These prizes can be anything from handicrafts or things you or your friends no longer need to vouchers for services from fundraiser partners. Anyone can arrange a fundraiser with rewards and adding prizes is very easy - check it out!
If you don't have physical items to use as rewards, an alternative option is to create posts for rewards. These allow you to provide donors with access codes or, for example, your images or videos, links to the training courses you run, passwords to premium content you offer, etc., for a specific donation.
Verify your account
In order to activate your fundraiser, you have to verify your profile. It is also a good idea to verify the description of your fundraiser and make it more credible to the donors. You will verify your profile with an identity document and biometric verification. When the verification is complete, your donors will see a message on the fundraiser page saying that your profile has been verified, so the donors will feel safer knowing who they are donating to.
If your fundraiser relates to illness, fire or animals, you can also verify its description immediately with the relevant documents confirming the veracity of the story described. Once the description has been verified, the fundraiser will additionally receive a credibility icon.

Check out this post and find out more about veryfication on 4fund.com.
Share, share, share!
Once your fundraiser is perfected in every detail, it's time to show it to the world! Are you wondering where to share crowdfunding campaign? Start with your loved ones - share the fundraiser with your friends. First contributions are crucial, so ask your family, friends and colleagues for help first. Share the fundraiser on your Facebook, Instagram or TikTok profiles, and ask your friends to share it further or set up moneyboxes to boost your fundraiser. Use a variety of communication routes - you can email, call or text. People are more likely to get involved in campaigns that have already been supported by others, so even a few per cent of the funds raised is already a good start and will dramatically change the perception of your fundraiser by others.
Now is the time to start promoting. To do so, consider purchasing premium features. The following features are available on our website:.
A bespoke fundraiser alias to make your website's address simple, friendly and easy to remember. You'd probably prefer a link like this: www.4fund.com/gift than www.4fund.com/2n1t3z, right?
Promoted fundraiser status, so that your fundraiser will appear in the fundraiser catalogue (automatic sorting of the list shows fundraisers with purchased promotion first).
A mention in the list of promoted fundraisers, so that your fundraiser appears at the top of the above-mentioned list.
Facebook advertising - our specialists will help you set it up. You can direct it to the people who have visited your fundraiser or another audience of your choice.
All premium features can be purchased separately or as a package for 7, 14 or 30 days. By themselves, they are still no guarantee of success, but they are certainly valuable support in promoting your fundraiser.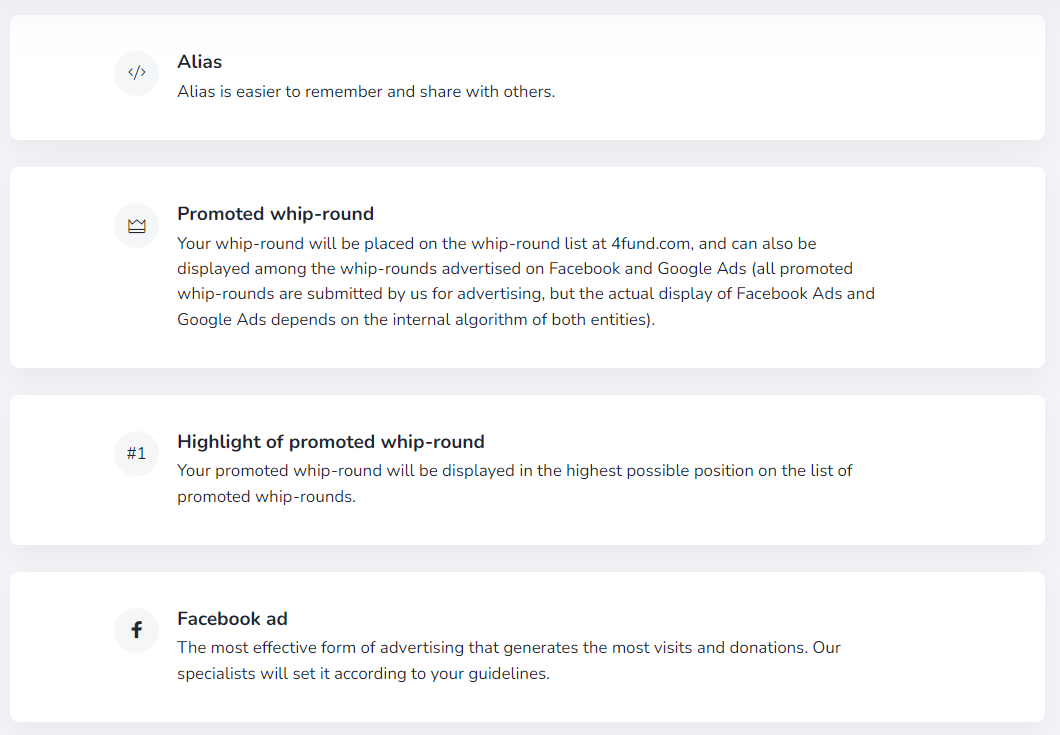 Tracking address and donations statistics
Do you have an analytical nature and want to track exactly which sharing and promotion channels bring in the most donations to your fundraiser? Collect data on individual activities with tracking links! Click here to read more.
Seek support
Also, try to seek support on various forums - preferably if they are related to your fundraiser in some way. Send information about the fundraiser to themed groups. If you are collecting for a new fishing rod, try the fishing groups. Remember not to be pushy though. Nobody likes it and you probably wouldn't like it either. Don't force people to share or make a donation if they don't want to. This can negatively affect your results.
Make use of QR codes
You can also try to go beyond the internet - download posters with a QR code from your fundraiser page and hang them up in your area. You can hang the posters, for example, in a kindergarten, school, neighbourhood shop, on poles and bulletin boards, in a church etc. There is a QR code on the poster - when someone scans it with their phone, they will be automatically taken to your fundraiser page. You generate the poster automatically (based on the description and photos of the fundraiser) by clicking 'more' in the fundraiser view and then selecting 'download poster'.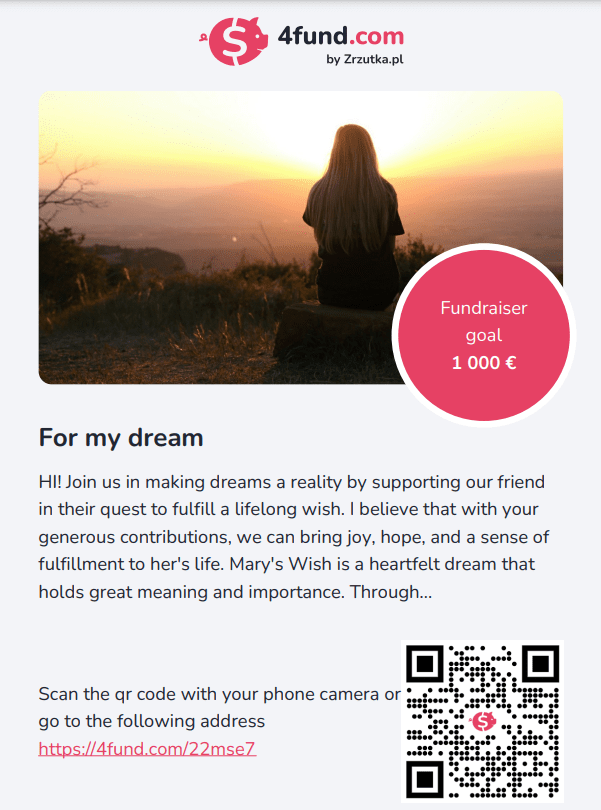 Get the community involved
Usually, the local community is the most involved in various types of action. Apply to the local media and try to get radio stations, TV stations, web portals and newspapers interested in your fundraiser. In return for their help, you can offer to mention about patronage on the fundraiser page with their logo. Remember not to be discouraged. It's worth courting this kind of promotion, as one article can secure up to dozens of new donations!
Influence others
In addition, invite influencers - ask well-known people, like celebrities, actors, singers, writers, politicians or athletes, to help which promotion. They have enormous power and reach! Maybe one of your friends knows such a person personally? This is important because it is difficult to refuse to help a friend, and direct outreach is hugely helpful. Sometimes all it takes is one Facebook post with a link to your fundraiser to raise tens of thousands on the same day. The more committed fans a person has, the better.
Keep your supporters up-to-date
Crowdfunding campaign Organisers are expected to provide transparent, reliable and up-to-date information. So make sure your Donators are always up to date and add updates on your fundraiser page. For example, the first batch of equipment purchased, a photo from a trip, etc. It's a good idea to add updates on your collection page as well as post new photos and videos on your social media channels. This will help you inspire more trust and reach new audiences.
The final countdown
When the fundraisers time is up, remind people of the impending end of the campaign. You can do this through any channel, or preferably all at once. 4fund.com provides Organisers with the email addresses of Donators, so you can now also send a message to people who have already donated to the fundraiser. The information about how much time is left and how much money is still missing can work very mobilising! And remember that you can extend your fundraiser as long as you want.
Greeting cards
If your fundraiser is for another person or organisation, once you have collected a satisfactory amount, generate a greeting card and transfer the funds to the beneficiary. The card will include the details of the donation and associated comments. In this way, you will highlight the people who supported your fundraiser and at the same time give a nice surprise to the beneficiary. You can download the card as a pdf or share it as a link.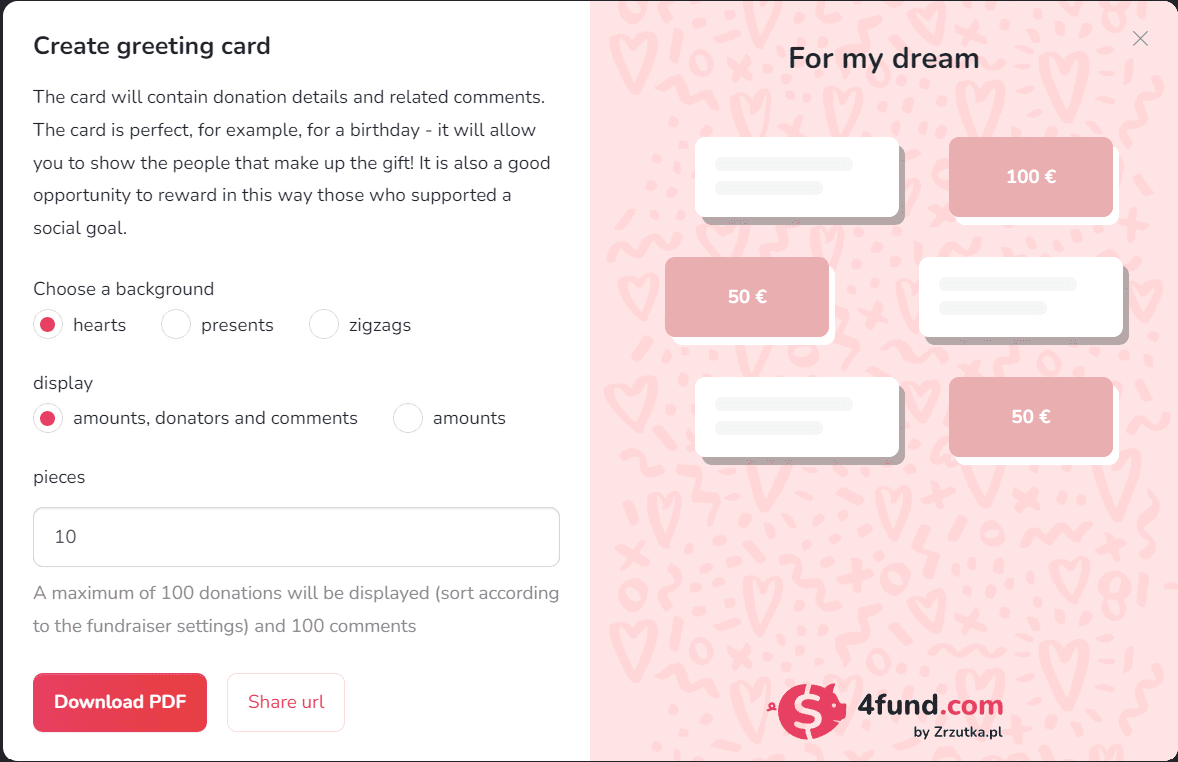 Show your Donators the impact they've had
At the end of the campaign, summarise and account for your fundraiser and thank the Donators - after all, it would not have been possible without them. This is not obligatory, but it will certainly be well received by the community gathered around your event. Showing the impact of your action will help you establish a long-term relationship with your donors, so they are likely to support your future initiatives.
Delete when done
Even though the duration of the fundraiser has ended, you can still donate to it. So if your campaign has already ended and you no longer need to collect funds, deactivate or delete the fundraiser. You will do this in your profile, under 'My fundraisers'. The difference between the two options is that if you disable the fundraiser, it will remain visible to Users (the page will open normally when you click on the link of the fundraiser), but the possibility to donate will already be blocked. If the fundraiser is removed, no one will be able to view the content anymore.

So get to work! Now you can tick off the tasks on the checklist to get the most out of crowdfunding and raise the funds you need to reach your goal. Follow the list step by step to achieve success!
---
Thinking about creating your fundraiser? Get to know us better and find out why it's worth a try!
First of all - how does it work?
It's simple - go to 4fund.com, enter how much money you want to raise, what are you going to spend them on and you're done! After a short verification, you will be able to use all the features of the portal without limitations. You can withdraw funds from your fundraiser whenever you want as often as you need, and thanks to the express withdrawal option, you will receive the funds in your account within minutes of ordering it! What's important - 4fund.com is maintained mainly by donations - you can use the portal 100% free of charge. We do not charge any mandatory fees from fundraisers or supporters.
Secondly - does it work?
After 10 years of development, we are coming to you as the leaders of the Polish crowdfunding market. Poles have fundraised over one billion PLN on zrzutka.pl (the Polish name for 4fund.com)! Our biggest actions include the #TogetherForUkraine fundraiser, which raised almost €700,000, or the fundraiser for the Crisis Helpline, which raised more than €380,000 in just two days.
However, 4fund.com is above all tens of thousands of private fundraisers - birthdays, trips, settle joint initiatives and others.
Collect one-off or in a subscription model and realise your goals with 4fund.com!
---