Find out that using 4fund.com safely is pretty easy - in this article, you will find everything you need!
First of all, we encourage you to read the information about our security standards (including the security of the storage of your data by 4fund.com) at 4fund.com/safety.
We have listed below the most important rules for the safe use of the 4fund.com website.
The safe use of the 4fund.com website:
1. Only log in to 4fund.com on a trusted device using secure Wi-Fi networks. Do not log in to your 4fund.com User Account on public networks such as shopping malls, restaurants, train stations, airports, etc.

2. Take care of the security of your devices: do not share them with third parties or leave them unattended use anti-theft protection and reputable antivirus software and remember to keep them updated.
3. Once you signed into 4fund.com, do not leave your device and always remember to log out.
4. Always check the address in your browser. It should be exactly 'https://4fund.com/' - no typos or misrepresentations, with 'https://' and not 'http://' at the start. When you click on the padlock icon, you will see information about the security certificate: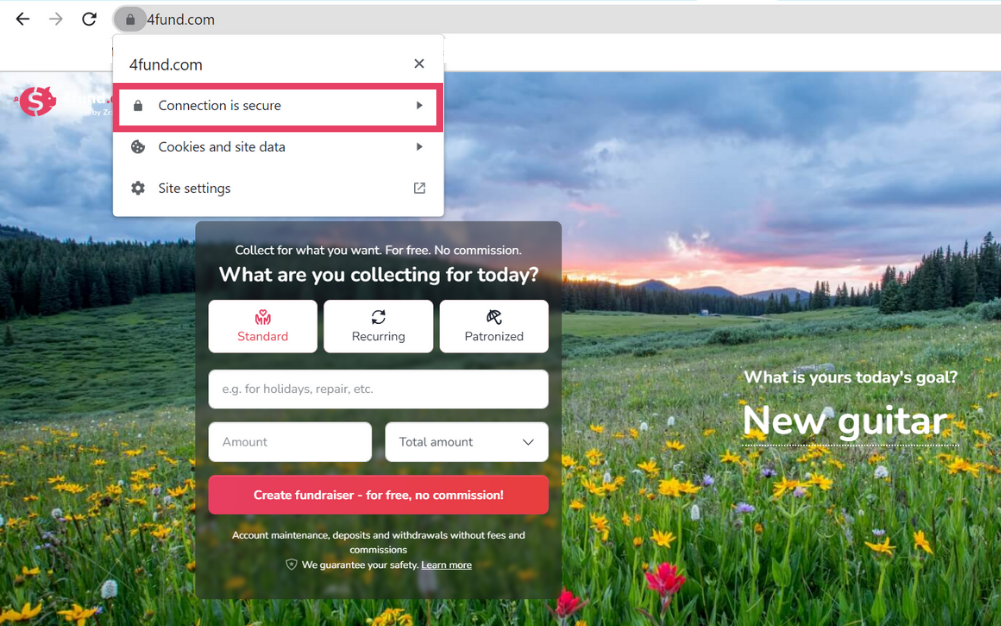 If the address is different (like some misrepresentation of the word '4fund'), someone is probably impersonating our site to commit fraud. Be sure to let us know if you see such a situation! The same if there is no padlock or 'https://'.
5. Take care of your password:
Create a strong password for your User Account on 4fund.com. We require your password to consist of 8 characters at least, one lowercase letter, one uppercase letter and one number or special character.
Remember to change your password regularly. We will remind you every 90 days to change it.
Do not share your login password with anyone. Change it immediately if there is a possibility that someone else may have seen it.
Do not keep your password in a place accessible to others, e.g. on a piece of paper, in a notebook, in a calendar, etc. Better use a password manager, which makes it easy to remember and encrypt passwords.
We recommend making your 4fund.com password unique (different from your password to mail, Facebook, etc.) so that you remain safe in case your data leaks from any portal.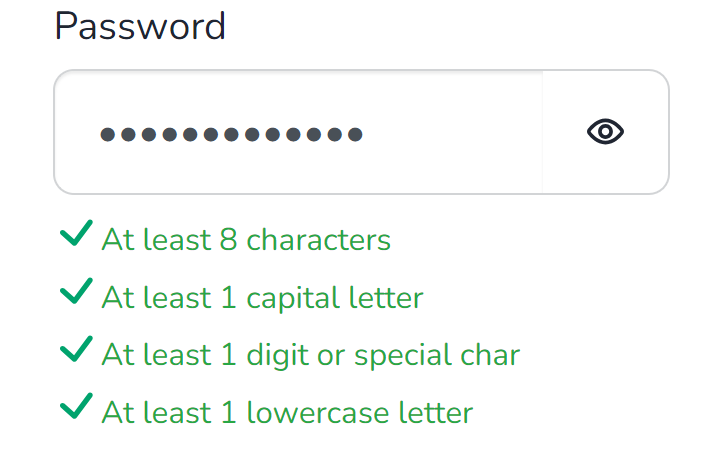 6. Authentication of sensitive operations, e.g. the first verification of an Organiser's Account, withdrawal history older than 90 days, making refunds, etc., will require confirmation by a code from an email or SMS code. You will set the authentication method in the 'Limits and authentications' tab.

7. Under the 'Limits and authorisations' tab, it is also worth setting a limit on daily withdrawals, as well as SMS notifications for high withdrawals.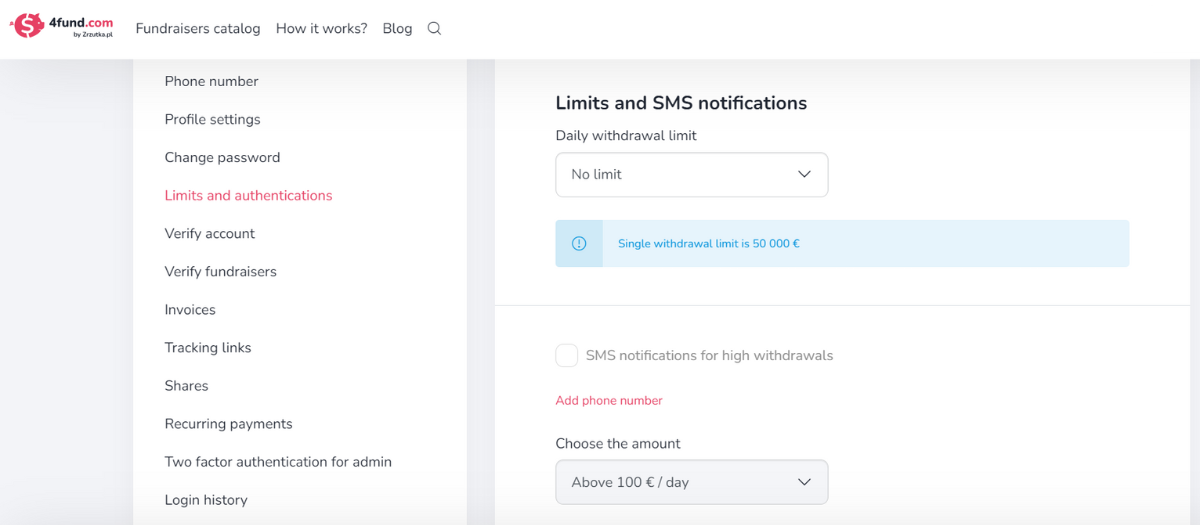 8. As a Donator, apply the 'limited trust' principle. Before donating, check that the Organiser of the coolection is verified (on 4fund.com Organiser undergoes two-step verification: with an identity document and by entering payment card details).

For charity fundraisers, you should pay attention to whether it has an icon confirming the reliability of the description. A fundraiser with such an icon has its description verified based on the documents uploaded by the Organiser - you can read more about this in this article.

---
Thinking about creating your fundraiser? Get to know us better and find out why it's worth a try!
First of all - how does it work?
It's simple - go to 4fund.com, enter how much money you want to raise, what are you going to spend them on and you're done! After a short verification, you will be able to use all the features of the portal without limitations. You can withdraw funds from your fundraiser whenever you want as often as you need, and thanks to the express withdrawal option, you will receive the funds in your account within minutes of ordering it! What's important - 4fund.com is maintained mainly by donations - you can use the portal 100% free of charge. We do not charge any mandatory fees from fundraisers or supporters.
Secondly - does it work?
After 10 years of development, we are coming to you as the leaders of the Polish crowdfunding market. Poles have fundraised over one billion PLN on zrzutka.pl (the Polish name for 4fund.com)! Our biggest actions include the #TogetherForUkraine fundraiser, which raised almost €700,000, or the fundraiser for the Crisis Helpline, which raised more than €380,000 in just two days.
However, 4fund.com is above all tens of thousands of private fundraisers - birthdays, trips, settle joint initiatives and others.
Collect one-off or in a subscription model and realise your goals with 4fund.com!
---