Planning a wedding can be an exciting and joyous time. On the other hand, it can also be a stressful and pricey endeavour. Weddings in Ireland are expensive, costing around €36,000 on average. So many couples want to find clever ways to get money for their special day.
One option that has gained popularity in recent years is fundraising for weddings. In this blog post, we will talk about how to raise money for weddings. We will look at different ways and ideas to help couples get funds for their special day.
Reasons to Fundraise for Your Wedding
Wedding fundraising has become increasingly popular in recent years, and for good reason. It offers multiple benefits that can make the wedding planning process smoother and more enjoyable. Here are a few key advantages of fundraising for your wedding:
Financial relief: Weddings can be expensive, and fundraising can help alleviate some of the financial burden. By raising funds through various means, couples can ensure they have the wedding of their dreams without breaking the bank. Doing this can reduce stress and help them focus on the joy of their upcoming big day.
Community involvement: Fundraising for your wedding allows your friends, family, and community to be a part of your special day. It brings people together and creates a sense of unity and support. Let people who care about you help in a significant way and make bonds on a deeper level!
Creative autonomy: When you fundraise for your wedding, you are free to get creative with your ideas and themes. You can think outside the box and plan a unique and memorable wedding experience. It can make your wedding stand out and be remembered by all who attend.

Fundraising Ideas for Weddings
Now that we understand the benefits of fundraising for weddings, let's explore some creative fundraising ideas. They can be tailored to suit your individual needs and preferences, making your wedding truly unique.
1. Crowdfunding
Crowdfunding has changed the way people raise money for different causes, including weddings. Couples can begin a campaign to tell their love story and ask for donations. People who care about them can help them achieve their dreams by showing love and support. This can be a powerful way to raise funds and connect with people on a deeper level.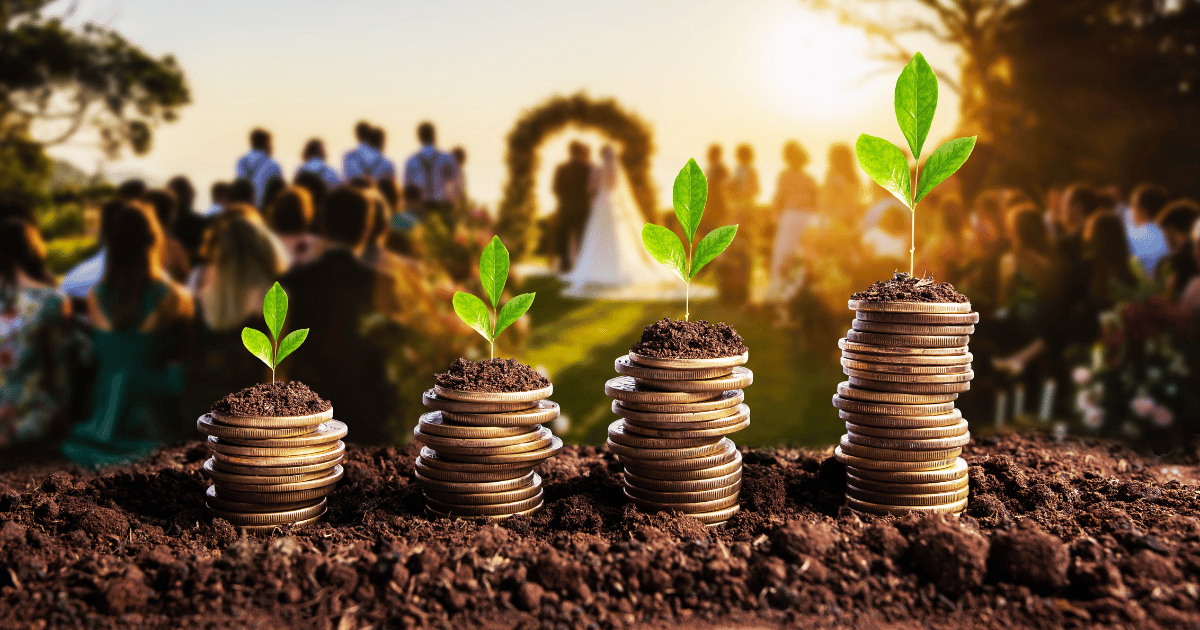 2. Wedding Registry
Instead of traditional wedding gifts, couples can create a wedding registry that allows guests to contribute towards specific wedding expenses. They can include anything from the venue and catering to the honeymoon and photography. On 4fund.com, you can add token rewards to your wedding fundraiser and let guests choose what they want to fund.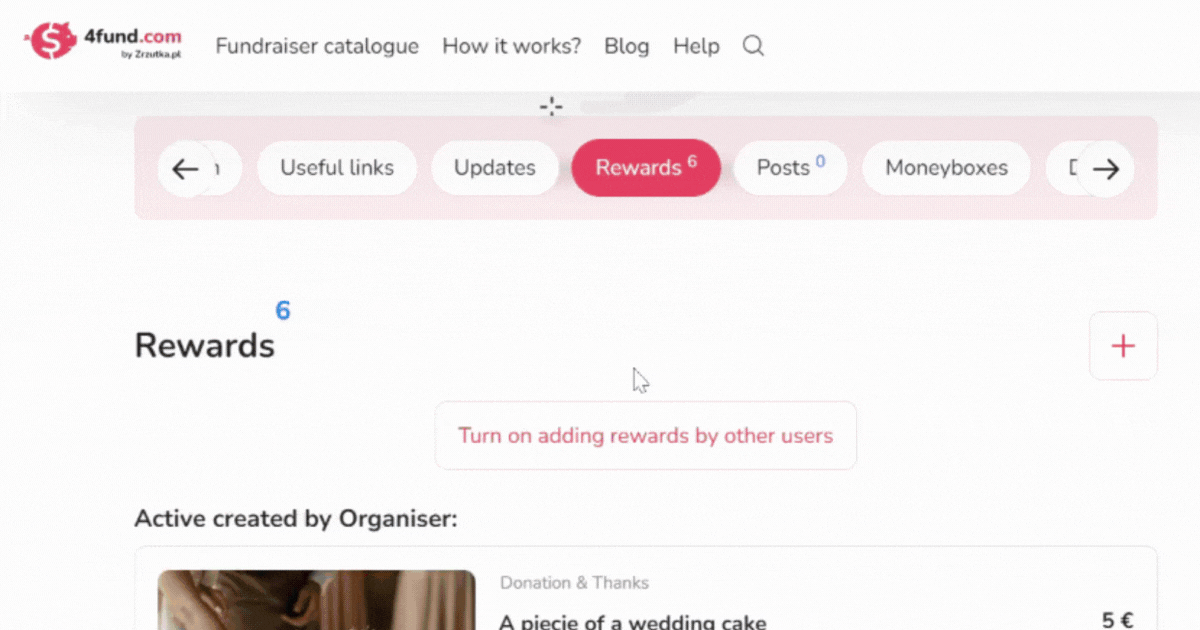 3. Fundraising Events
Organizing fundraising events can be a fun and interactive way to raise funds for your wedding. You can host a charity auction, a bake sale, or even a themed party where guests can make donations
Get creative with your event ideas. Spread the world with them through social media, word of mouth and by adding an update to your 4fund. This can be a great way to involve your community and make your wedding a truly communal affair.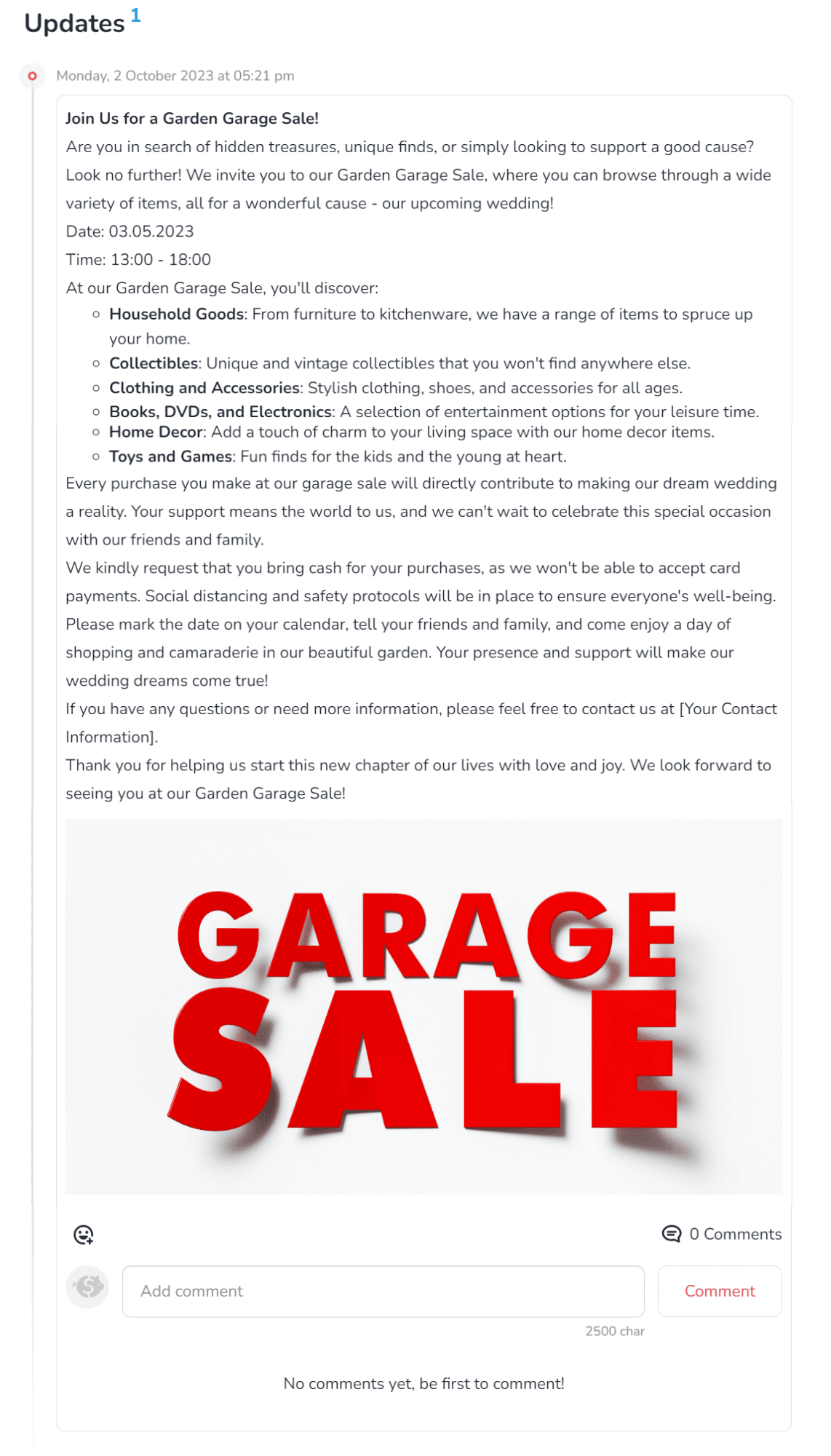 4. Personalized Merchandise
Create personalized merchandise such as t-shirts, mugs, or keychains with your names and wedding date. Sell these items or put them on auction to raise funds for your wedding. Not only will people be supporting your cause, but they will also have a keepsake to remember your special day. This can add a personal touch to your wedding and make it truly memorable.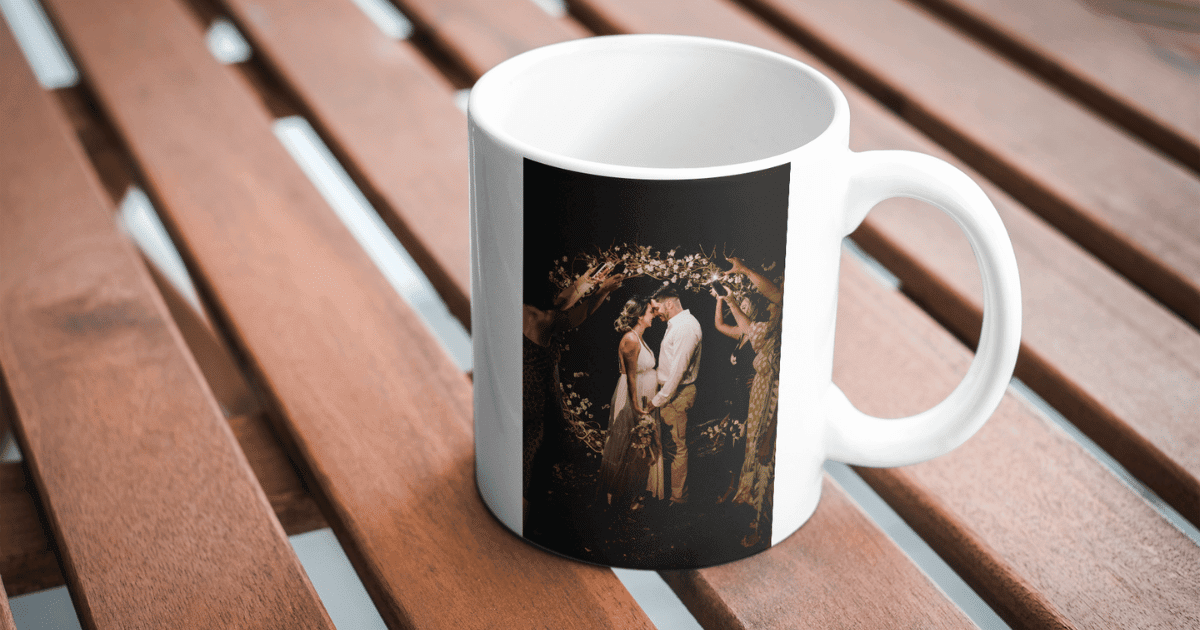 5. Wedding Raffles
Organize a wedding raffle where guests can purchase tickets for a chance to win exciting prizes. Reach out to local businesses and ask for donations of products or services that can be included in the raffle. This not only raises funds but also helps promote local businesses. It's a win-win situation!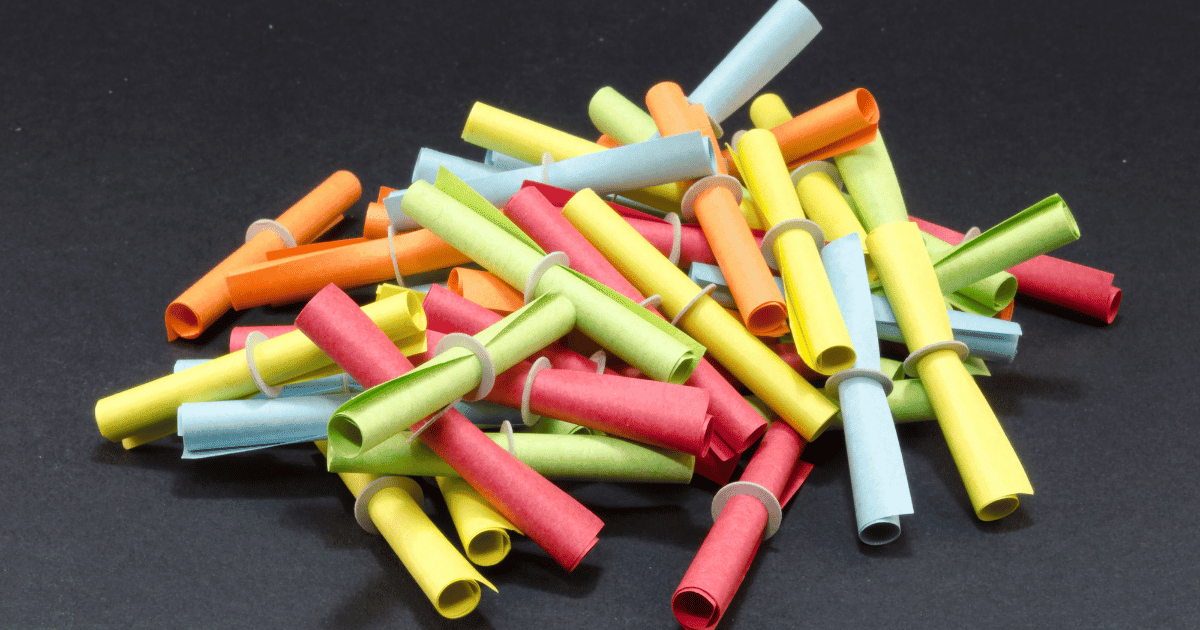 Use 4fund.com as donation platform
4fund.com is a free fundraising platform. We don't charge any commission, so you don't have to worry about some hidden fee ruining your plans. Get to know us better and see how we can help you raise money for your wedding!
Dispatch a donation invitation!
On 4fund.com, one-click generates a QR code directing you to your fundraiser or directly to the donation view. You can put it on your invitations and make it easy for your guests to find your fundraiser.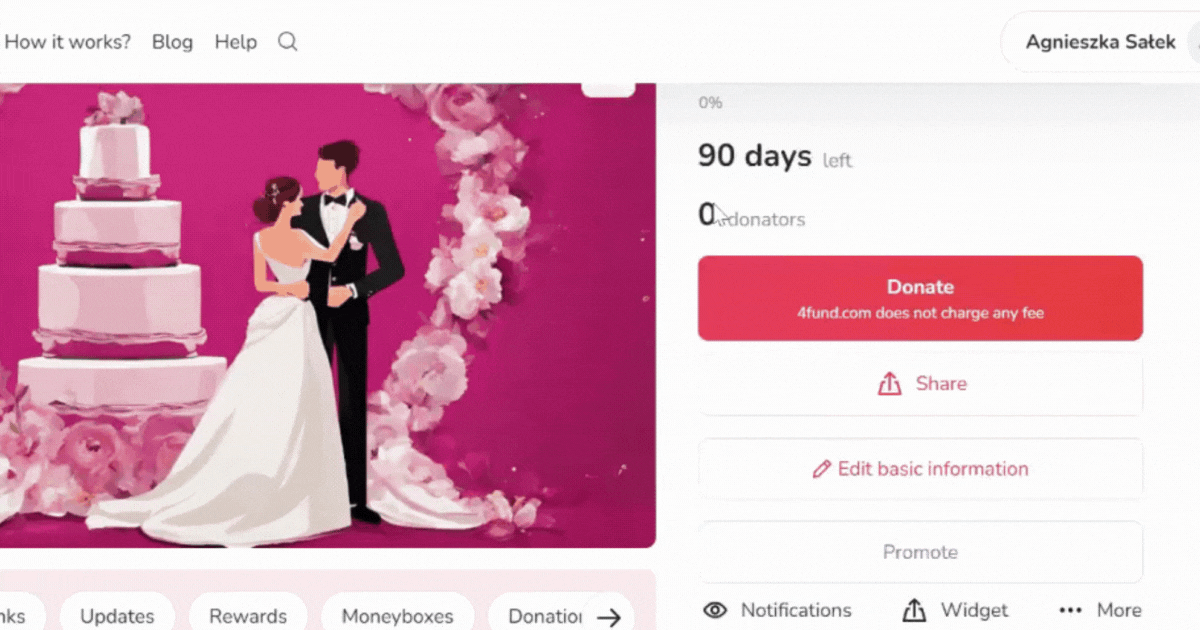 A joint gift is a great idea
Do neighbours, work colleagues or high school friends want to jointly donate a larger sum for your wedding? Enable the creation of moneyboxes and let them tick their share!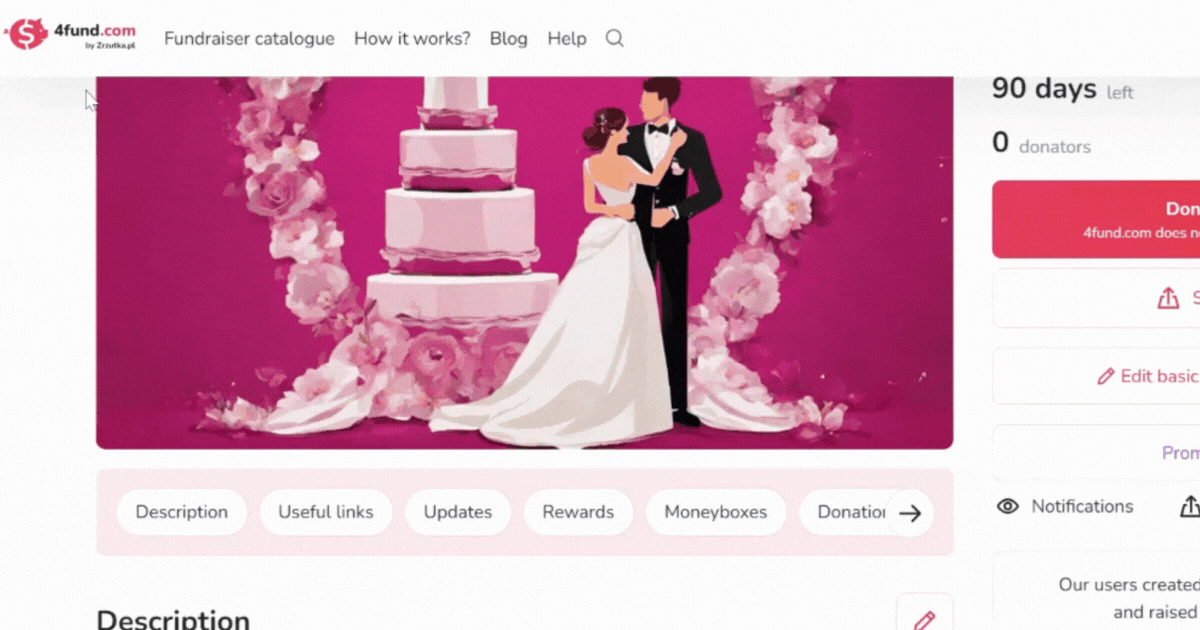 Add symbolic or real awards
Put up rewards and auctions or set symbolic thresholds of support. You can communicate to your guests how much it will cost you to organise your wedding. Don't be shy - not everyone knows how much catering or hall hire costs.
Wedding fundraising helps couples reduce the cost of planning their wedding and get their community involved in their big day. There are lots of ways for couples to come up with fundraising ideas. They can be creative and raise money in a way that is important to them.
So, if you're planning your dream wedding but worried about the costs, consider fundraising as a viable option. It can make your wedding planning process smoother, more enjoyable, and truly unique. Happy fundraising!

Follow our blog and social media profiles for the latest tips and guides. Check out our FAQ and other articles to find more about running a successful fundraiser on 4fund.com!
---
Thinking about creating your fundraiser? Get to know us better and find out why it's worth a try!
First of all - how does it work?
It's simple - go to 4fund.com, enter how much money you want to raise, what are you going to spend them on and you're done! After a short verification, you will be able to use all the features of the portal without limitations. You can withdraw funds from your fundraiser whenever you want as often as you need, and thanks to the express withdrawal option, you will receive the funds in your account within minutes of ordering it! What's important - 4fund.com is maintained mainly by donations - you can use the portal 100% free of charge. We do not charge any mandatory fees from fundraisers or supporters.
Secondly - does it work?
After 10 years of development, we are coming to you as the leaders of the Polish crowdfunding market. Poles have fundraised over one billion PLN on zrzutka.pl (the Polish name for 4fund.com)! Our biggest actions include the #TogetherForUkraine fundraiser, which raised almost €700,000, or the fundraiser for the Crisis Helpline, which raised more than €380,000 in just two days.
However, 4fund.com is above all tens of thousands of private fundraisers - birthdays, trips, settle joint initiatives and others.
Collect one-off or in a subscription model and realise your goals with 4fund.com!

---