Fundraising is the lifeblood of nonprofit organizations, powering their missions to make a difference in the world. A critical aspect of efficient fundraising is managing finances effectively, and setting up a corporate account is key to achieving this goal. Good news – you're in the perfect place for that!

In this guide, we'll walk you through the simplified steps to create a corporate account on 4fund.com tailored to the needs of fundraising organizations. Moreover, our platform is 100% free of charge – we do not charge commissions on contributions and withdrawals, either from fundraiser organisers or contributors. Don't wait another day to get started. Join the growing community of passionate fundraisers who have chosen 4fund.com as their trusted partner!
1. Register a private account
To begin the registration process, start by creating an account using an email address associated with your organization's domain. Afterward, verify your account as a private individual by providing personal information and submitting identity documents for the person who will manage the company profile.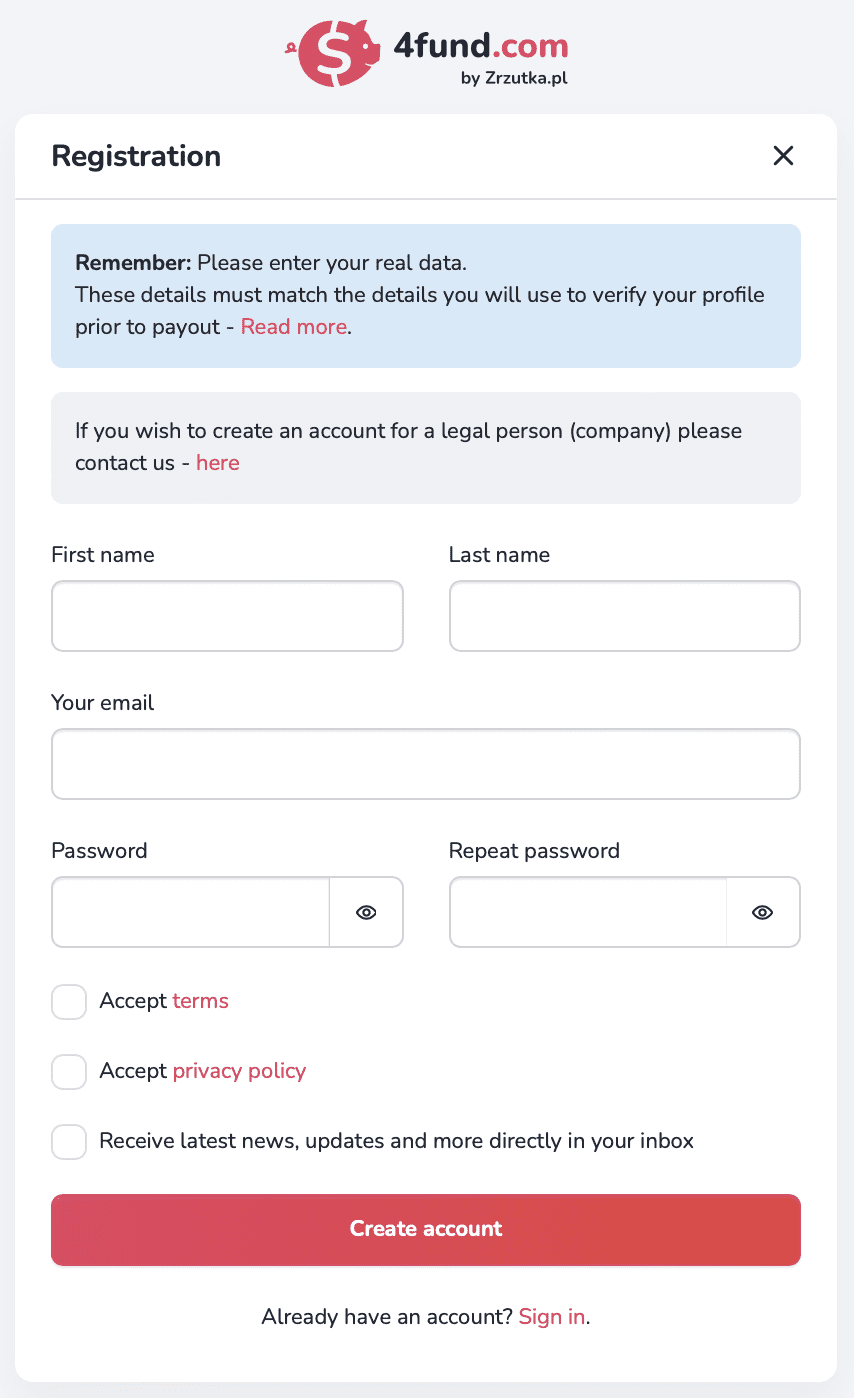 2. Complete the Application Form
Once you have successfully verified your private account, please proceed to fill out the application form. Our streamlined application form allows you to provide essential information about your organization, including its legal structure, contact details, and mission. Providing your information in this form will enable us to verify your request for a change from a private to a corporate account. With 4fund.com's fee-free structure, you can focus solely on setting up your corporate account without worrying about hidden costs.
3. Complete Onboarding
After you've submitted your application, our team will promptly review it. Once your application is approved, we'll guide you through the onboarding process - we will get in touch in a couple of days. Our customer support team will then reach out to you via email and assist you step by step to go through a manual company onboarding process. In this step, you will be requested to submit the necessary documentation. Please note that the specific document requirements may vary depending on your country and the nature of your business.
If you have questions or need assistance during the application process, our dedicated customer support team is here to help. They understand the unique requirements of fundraising organisations and are ready to assist you.
4. Start fundraising!
Ready to experience the future of fundraising? Your 4fund.com corporate account is now ready for action! Begin collecting donations, managing expenses, and strengthen links with your community!
With our user-friendly platform, a fee-free structure, and a suite of tools at your disposal, there's no better time to embark on your fundraising journey. Together, we can turn your mission into a success story that leaves a lasting impact. Join us, and let's make a positive change together.
---
Thinking about creating your fundraiser? Get to know us better and find out why it's worth a try!
First of all - how does it work?
It's simple - go to 4fund.com, enter how much money you want to raise, what are you going to spend them on and you're done! After a short verification, you will be able to use all the features of the portal without limitations. You can withdraw funds from your fundraiser whenever you want as often as you need, and thanks to the express withdrawal option, you will receive the funds in your account within minutes of ordering it! What's important - 4fund.com is maintained mainly by donations - you can use the portal 100% free of charge. We do not charge any mandatory fees from fundraisers or supporters.
Secondly - does it work?
After 10 years of development, we are coming to you as the leaders of the Polish crowdfunding market. Poles have fundraised over one billion PLN on zrzutka.pl (the Polish name for 4fund.com)! Our biggest actions include the #TogetherForUkraine fundraiser, which raised almost €700,000, or the fundraiser for the Crisis Helpline, which raised more than €380,000 in just two days.
However, 4fund.com is above all tens of thousands of private fundraisers - birthdays, trips, settle joint initiatives and others.
Collect one-off or in a subscription model and realise your goals with 4fund.com!

---