The COVID-19 pandemic shook the lives of billions of people. Horrifying statistics, the economic crisis and continuing deaths made it increasingly difficult for charities to obtain donations to ensure survival. The 500 horses and 300 other animals cared for by the Centaurus Foundation could have been added to the pandemic's victims - fortunately, this never happened!
In an emphatic appeal, a member of the foundation conveyed the cruel truth - in this case, a miracle will not happen! Either the foundation would raise money for animals' feed and the daily running of the farm, or the livestock would die of starvation. The needs were immense, as the Centaurus Foundation had lost the support of many donors, including elders who, out of fear of the virus, were unable to go out to the post office and request a money transfer, or companies cutting expenses in the face of the global crisis. On zrzutka.pl (this is the name that 4fund.com operates with in Poland) a dramatic battle for the survival of innocent creatures, unaware that they could soon die the cruellest of deaths, started.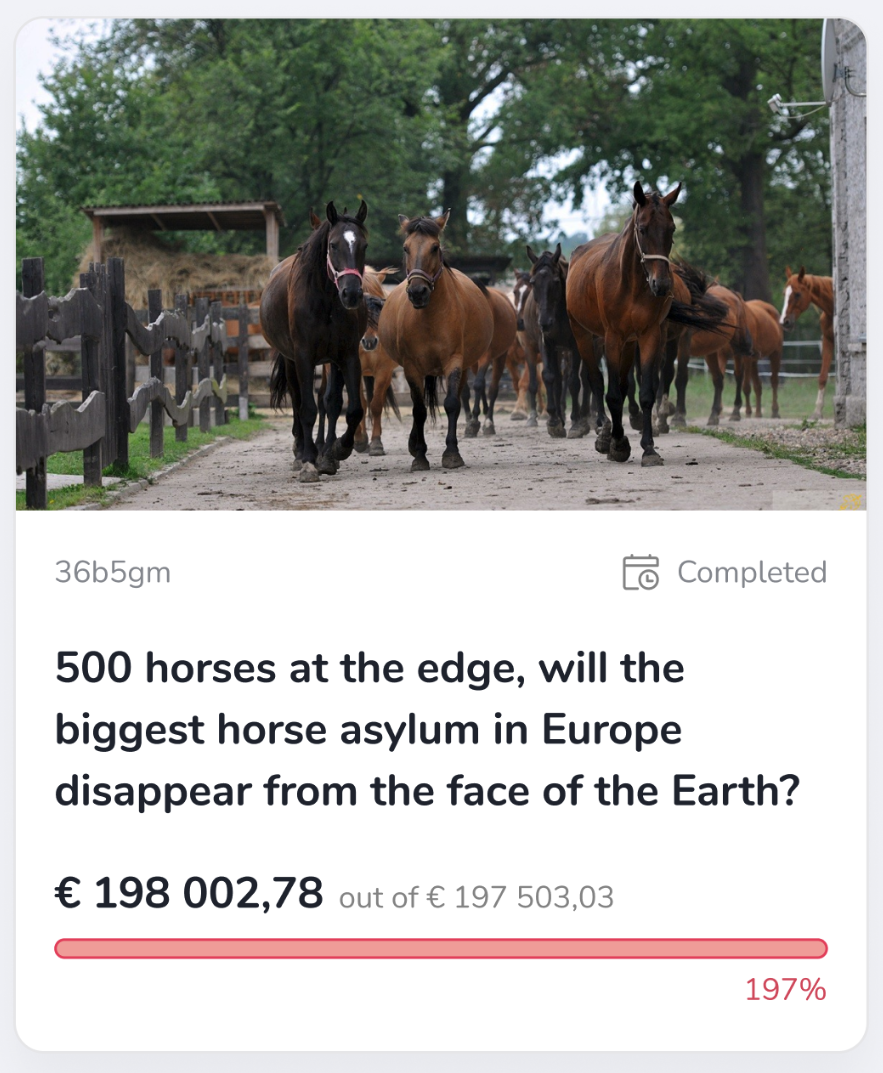 And no, in this case, a miracle did not happen. What happened was the concrete help Centaurus received from 18201 people! In a world on fire with an uncertain future, there were people ready to support the rescued animals. 200,000 euros secured their livelihoods and allowed their guardians to look to the future with the hope of a return to normality.
It is always worth asking for help! On 4fund.com you will raise money without commission or additional fees. Start today - it costs nothing! You never know how your story will turn out.

---
Thinking about setting up your fundraiser? Get to know us better and find out why it's worth a try!
First of all - how does it work?
It's simple - go to 4fund.com, enter how much money you want to raise, what are you going to spend them on and you're done! After a short verification, you will be able to use all the features of the portal without limitations. You can withdraw funds from your fundraiser whenever you want as often as you need, and thanks to the express withdrawal option, you will receive the funds in your account within minutes of ordering it! What's important - 4fund.com is maintained mainly by donations - you can use the portal 100% free of charge. We do not charge any mandatory fees from fundraisers or supporters.
Secondly - does it work?
After 10 years of development, we are coming to you as the leaders of the Polish crowdfunding market. Poles have fundraised over one billion PLN on zrzutka.pl (the Polish name for 4fund.com)! Our biggest actions include the #TogetherForUkraine fundraiser, which raised almost €700,000, or the fundraiser for the Crisis Helpline, which raised more than €380,000 in just two days.
However, 4fund.com is above all tens of thousands of private fundraisers - birthdays, trips, settle joint initiatives and others.
Collect one-off or in a subscription model and realise your goals with 4fund.com!
---