The government has decided that there is no money for children in psychological crises. The Polish people - that they don't accept it. See how one person saved hundreds or even thousands of children by setting up a fundraiser for the operation of the Helpline.
To understand the seriousness of the situation, you need to know that pediatric psychiatry is in a deplorable state in Poland. We have very few doctors in this specialisation, and hospital wards treating children struggling with mental crises are located in very few cities and are constantly overcrowded. The Child and Adolescent Helpline was a chance to get help for those for whom the queue proved too long. Who was suffering. Who did not dare to ask anyone else for help.
The anonymous phone, staffed by psychologists, operated free of charge for many years, thanks to government subsidies. However, in 2022 the authorities stated that the Helpline would not fit into the planned budget. As an alternative, the authorities proposed their phone, operating at the Children's Ombudsman's Office. An initiative that had great public trust was to be replaced by a telephone at the office of a man who had publicly stated that "a spanking is not a beating, but a method of child-rearing"! As might be expected, many people opposed this solution.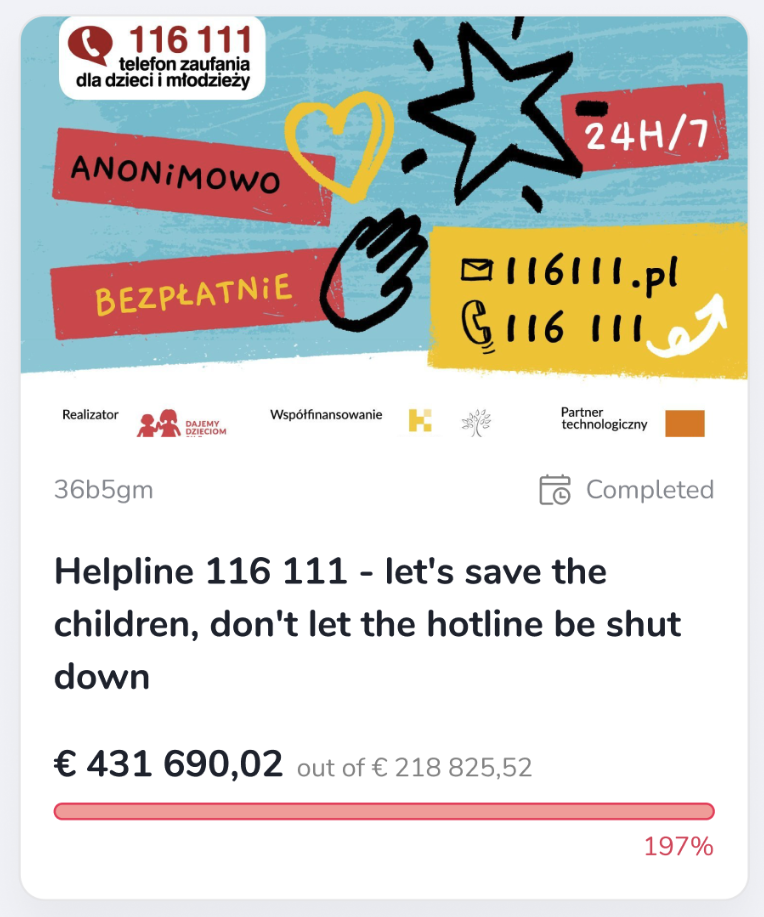 One of these people was Aleksander Twardowski - the fundraiser for the maintenance of the Crisis Helpline. Aleksander put a huge amount of work into publicising his collection, faced hate and received unimaginable support. More than 40,000 people joined his campaign! Together they raised about €430,000 and saved the Telephone
Stop waiting for miracles - become one! Use 4fund.com to change the world around you. We don't charge commissions on donations and withdrawals - you will receive every penny donated for your cause!

---
Thinking about setting up your fundraiser? Get to know us better and find out why it's worth a try!
First of all - how does it work?
It's simple - go to 4fund.com, enter how much money you want to raise, what are you going to spend them on and you're done! After a short verification, you will be able to use all the features of the portal without limitations. You can withdraw funds from your fundraiser whenever you want as often as you need, and thanks to the express withdrawal option, you will receive the funds in your account within minutes of ordering it! What's important - 4fund.com is maintained mainly by donations - you can use the portal 100% free of charge. We do not charge any mandatory fees from fundraisers or supporters.
Secondly - does it work?
After 10 years of development, we are coming to you as the leaders of the Polish crowdfunding market. Poles have fundraised over one billion PLN on zrzutka.pl (the Polish name for 4fund.com)! Our biggest actions include the #TogetherForUkraine fundraiser, which raised almost €700,000, or the fundraiser for the Crisis Helpline, which raised more than €380,000 in just two days.
However, 4fund.com is above all tens of thousands of private fundraisers - birthdays, trips, settle joint initiatives and others.
Collect one-off or in a subscription model and realise your goals with 4fund.com!
---